Most products on this page are from partners who may compensate us. This may influence which products we write about and where and how they appear on the page. However, opinions expressed here are the author's alone, not those of any bank, credit card issuer, airline or hotel chain. This page may include information about American Express products currently unavailable on Slickdeals. American Express is not a partner of Slickdeals.
If you've been collecting spare change in a piggy bank for the past several years, you may feel like it's time to cash out. But where's the best place to exchange your coins for cash? While researching banking policies and talking to customer service representatives, we learned that you can cash coins for free at many banks, credit unions and select stores. Note that some banks may have limitations on cashing coins for you, so double-check your bank's preferences before hauling your spare change over there.

Related Article
8 Easiest Bank Accounts to Open Online—No Deposit Required (2023)
Places Where You Can Cash Coins for Free
U.S. Bank
Capital One
Chase
Citizens Bank
PNC Bank
TD Bank
Bank of America
Citi
BMO
BECU
Connexus Credit Union
Bethpage Federal Credit Union
Patelco Credit Union
PenFed Credit Union
Coinstar
Certain convenience stores and grocery stores have coin counter machines, but you can also cash coins for free at banks and credit unions—if you're a customer at the institution and you follow a few simple guidelines.
Banks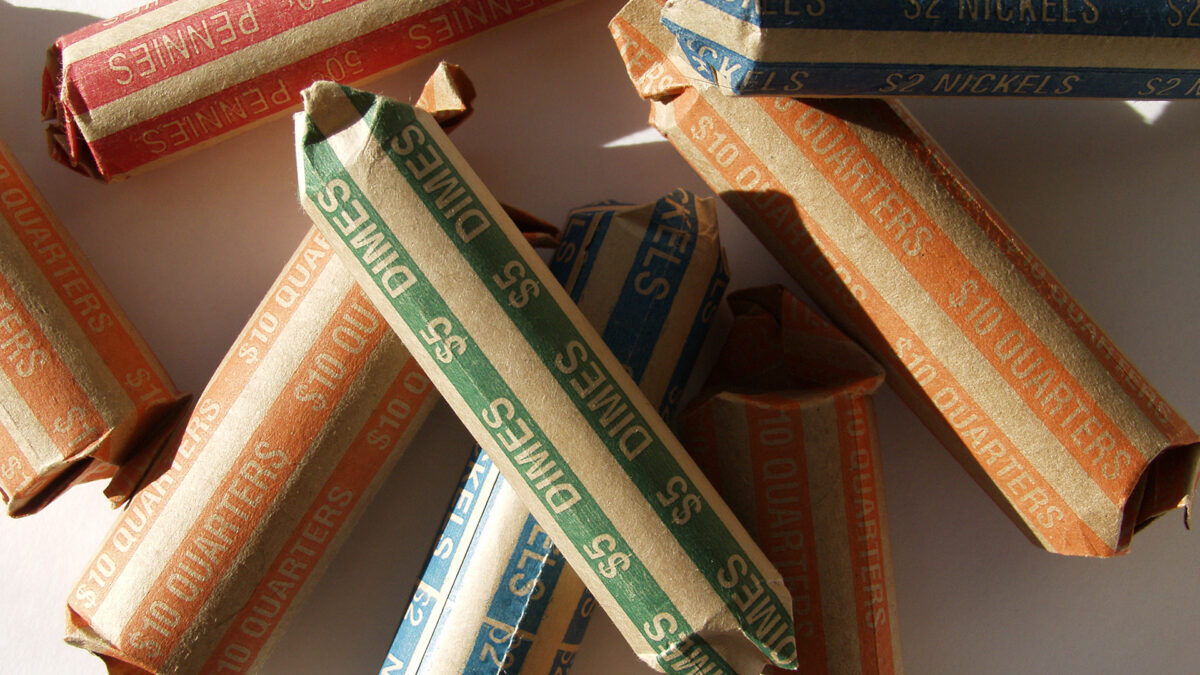 While most banks we contacted don't offer coin counters, some larger banks generally allow you to deposit rolled coins into your account. Depending on the bank, you may need to be an existing customer to use this service.
1. U.S. Bank
U.S. Bank—the fifth-largest bank in America—is one of the few banks offering free coin counters for customers at some branches. Most banks we contacted prefer rolled coins, and U.S. bankers usually ask customers to bring loose change to reduce transaction times.
2. Capital One
Capital One allows customers to exchange rolled coins for cash at certain locations (they do not have coin counters). You may also be able to do this as a non-customer, but a support representative we talked to recommends contacting the branch first to confirm.
3. Chase
Chase doesn't provide coin counters, but you can deposit wrapped coins for free if you're a customer.

Related Article
Chase Business Complete Banking Bonus: $300 for New Customers in December
4. Citizens Bank
Citizens Bank customers can deposit rolled coins into their accounts. According to a customer service representative, Citizens Bank does not offer coin counters.
5. PNC Bank
PNC Bank allows customers to exchange non-rolled coins up to $10; anything over that amount must be wrapped (the branch should provide coin wraps if needed). If you're not a PNC customer, you may be able to exchange spare change for cash up to $25.
6. TD Bank
TD Bank accepts rolled coins for deposit, though it's up to the branch location's discretion whether to accept unrolled coins. Coin wrappers are provided free of charge at all TD Bank locations.
7. Bank of America
Bank of America accepts rolled coins at its Financial Centers, and this service is generally limited to customers. The amount of coins you can cash is up to the Financial Center's manager or employees.

Related Article
Here Are the Top 5 Safest Banks in 2023
8. Citi
Citi branches allow customers to deposit rolled coins. Contact the branch before you visit, as this service isn't offered at all locations due to staffing issues, according to a Citi customer service representative.
9. BMO
BMO, like most other banks we contacted, doesn't offer coin counters. However, it does allow customers to deposit or exchange wrapped coins.
Credit Unions
Unsplash
Many credit unions allow members to convert coins into cash for free. Some offer coin counters, while others require you to bring rolled coins to the teller for deposit.
Below is a list of a few popular credit unions that offer this service.
9. BECU
If you're a member of BECU, you can deposit rolled coins. BECU provides its members with up to 20 coin wrappers. If you need more coin wrappers, you can purchase them from several places, such as Office Depot, Dollar Tree, Walmart, and Amazon.
10. Connexus Credit Union
Connexus Credit Union members can access free coin counters at some of its locations. For the locations that don't have coin counters, rolled coins are accepted.
Related Article
Best Banks That Reimburse or Waive ATM Fees
11. Bethpage Federal Credit Union
Bethpage Federal Credit Union offers coin-counting machines at some locations, and members can exchange coins for cash without paying a fee as long as they deposit into their accounts. The credit union charges a 5% fee for converting coins into cash.
12. Patelco Credit Union
Patelco Credit Union doesn't have a coin-counting machine but accepts wrapped coins for deposit.
13. PenFed Credit Union
If you're a PenFed Credit Union member, you can deposit rolled coins into your account.
Stores
Slickdeals/Coinstar
Some stores have coin-counting machines. You'll likely incur a fee to use these machines, but you can redeem your coins for free in certain situations.
14. Coinstar
Coinstar has several coin-counting vending kiosks across the U.S. that allow you to exchange coins for cash for a fee—typically 11.9% of the total amount converted. You can find Coinstar kiosks in grocery stores like Walmart, Winn Dixie, Kroger, and HEB or convenience stores like CVS. The State Employees Credit Union (SECU) offers Coinstar kiosks to existing customers with no fees.
All users, regardless of customer status or location, can exchange coins for free if they redeem them for a digital gift card. Coinstar offers gift cards to 18 restaurants and stores, including:
Can You Cash Coins for Free?
Yes, most financial institutions, including some credit unions and banks, allow customers to exchange rolled coins for free. To use this service, you generally have to be a credit union member or a bank customer. Some banks may prefer that you present the coins rolled, but it's best to confirm with your local branch.
Coin-counting vending kiosks usually charge a fee to convert coins to cash, so the best place to exchange your coins without a fee would be at your bank.
Tips for Managing Your Spare Change
If you're not a fan of keeping loose change around the house, here are some tips you can use to best manage your coins.
Limit how much cash you use. Using cash only when necessary is the best way to stop coins from piling up. Consider using a credit card instead of cash, especially one that can earn you rewards.
Store your spare change in one location. To better track your loose change, keep it all in one location, such as a piggy bank.
Roll your coins. As your piggy bank grows, start rolling your coins. Doing this can save a lot of time when taking your coin to a bank that doesn't have a coin counter.
Donate coins to charity. If you want to use your spare change to positively impact society, consider donating them to charity. Coinstar allows you to donate to some of its charity partners, including the American Red Cross, Feeding America, and Make a Wish. It doesn't charge you for donating but keeps 10% of the amount as a processing fee.
See Which Credit Cards Offer Bonuses
Bottom Line
Banks and credit unions usually allow people to convert their coins into cash for free. Although policies vary, you generally must be a customer or member to use this service. Depending on where you go, you may have to roll your coins to exchange them for cash or deposit them into your account. Alternatively, you can exchange your coins for free at a Coinstar kiosk if you exchange them for a gift card.
Frequently Asked Questions
Some banks and credit unions allow consumers to exchange coins for cash for free, or if you deposit the coins into your account. But if you aren't a customer, a bank may not allow you to cash coins or require you to pay a fee.

Most banks we reached out to accept coins only if they're rolled in coin wrappers. Some banks may provide wrappers; you can also purchase them from places like Walmart, Amazon, or Dollar Tree.

No, ATMs usually only accept cash. To deposit coins into your account, you must visit a physical branch and have a teller deposit them. Remember to contact the bank first to see if it offers this service.

Some U.S. Bank locations and American Eagle Credit Union offer coin counters to their customers. Once the machine finishes counting the members' coins, a teller can deposit the funds into their account or give them cash. The majority of banks and credit unions we reached out to don't provide coin counters.

An advantage of using Coinstar is that it saves you time from rolling coins up to cash them, and they're more widely available. On the flip side, you'll likely pay an 11.99% processing fee—meaning if you convert $100 of coins into cash, you'll pay an $11.99 fee. However, you can avoid this expense by redeeming your coins for a digital gift card.