Those who are looking for a new bank, but also want a little something extra for switching, may find a friend in U.S. Bank. This nationwide financial institution is offering new customers an eye-watering $500 to open a business checking account and complete qualifying activities
But keep in mind that you're on the hook to pay monthly maintenance fees, unless you can take advantage of the option to waive. Here's what you need to know about this limited-time offer, which is valid until October 28, 2022.
$500 U.S. Bank Bonus
New customers can earn an extra $400 when they open a new U.S. Bank Silver, Gold or Platinum Business Checking account and complete the required activities. But you'll need to act quickly — this bonus offer is only available for a limited time, until October 28, 2022.
While a $400 bonus is nothing to sneeze at, you can earn an additional $100 by accepting and settling a U.S. Bank Payment Solutions Merchant transaction. This brings the total potential value of the bonus up to $500.
How to Earn the Full $500 Cash Bonus
Qualifications for $400 Bonus:
Open a new account checking account in-branch, online, or by phone. Eligible accounts include Platinum, Gold or Silver Business Checking. The bank requires a $100 minimum opening deposit.
Use the promo code Q3BUS22 when opening your account. While the promo code will be applied automatically during online enrollment, you'll need to present the code manually when opening an account at a branch location or over the phone.
Deposit $1,500 in new money within the first 30 days of account opening. This new money cannot be held by U.S. Bank, nor any of its affiliates.
Enroll in online banking or the U.S. Bank mobile app. This enrollment is in addition to account opening, and it must be completed within 60 days of opening your account.
Complete 10 qualifying transactions within the first 60 days of account opening. These include debit card purchases, ACH credits, wires credits/debits, Bill Pay, Mobile Check Deposit and Merchant deposits.
Qualifications for $100 Payment Solutions Bonus:
Meet all of the above requirements for the $400 Business Checking bonus. This bonus cannot be earned on its own.
Accept and settle a U.S. Bank Payment Solutions Merchant transaction into your new Business Checking account. This transaction must be completed within 60 days of account opening.
Want to earn another bonus? HSBC is currently offering a $500 cash bonus to new HSBC Premier Checking customers who complete qualifying activities. This is among the largest bank account bonuses currently available, so we recommend you consider both offers before making a decision. Read our full review of the HSBC Premier account.
When Do You Get Your Bonus?
Once you've completed the eligibility steps above, your checking bonus will be deposited into your new checking account within 45 days. The bank will need to verify that you've successfully enrolled into either online banking or the mobile app.
Be mindful that your account needs to be open and in good standing at the time U.S. Bank issues your bonus. If you have a negative balance or you've closed your account, then you may not be eligible for receiving your bonus cash.
Another note about account closing: Banks will often recover or "claw back" bonuses when accounts are closed too soon. Although U.S. Bank's bonus offer page does not mention any such restrictions, it does state the umbrella term, "Other restrictions apply." However, it does not elaborate on those terms.
As a rule of thumb, you shouldn't open a new deposit account just for the bonus and then close it. Plan on giving the account a proper test drive to see if its right for you.
Who is Eligible for the $500 Bonus?
Only new customers qualify for this promotion. If you or any other signer currently has a U.S. Bank checking account, you are ineligible. Similarly, you won't qualify if you've had a checking account, or recieved other bonuses, with U.S. Bank in the past two years.
Additional Terms and Conditions
U.S. Bank has a few other guidelines for new customers, including:
The bank will only grant one bonus per customer.
Bank employees are not eligible.
The bonus will be reported to the IRS as income, and it will issue you a 1099-INT
This promo cannot be combined with other offers.
Eligible Checking Accounts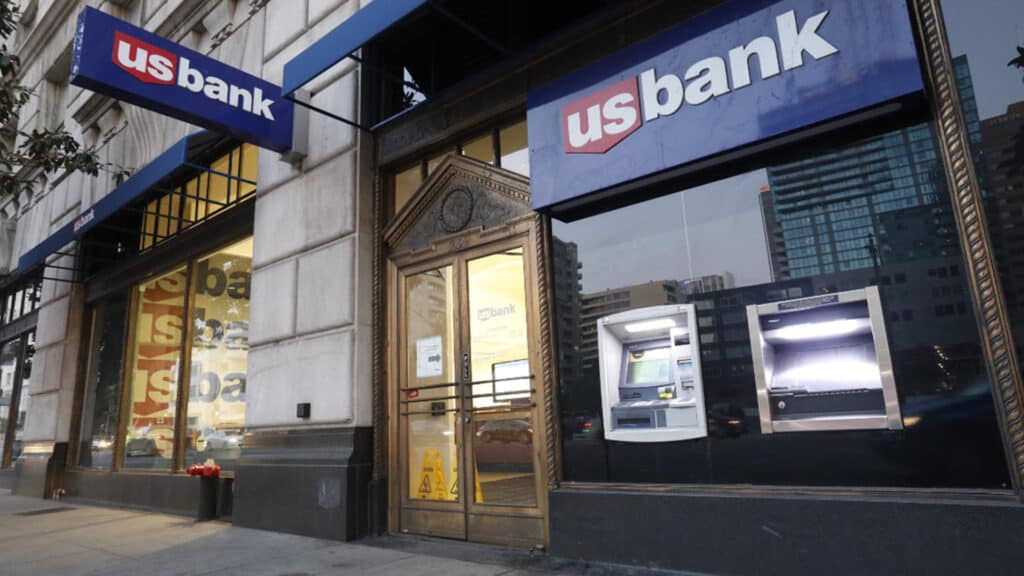 If you're interested in the $500 promotion, then you'll need to open an eligible business checking account.
While the Silver Business Checking Account Package does not feature a monthly maintenance fee, both the Gold and Platinum package do. However, in the latter two cases, there are ways to waive this fee.
Be sure to read through the terms and conditions of each to make sure that it's right for your financial situation.
Regardless of which account you choose, they all come with the bank's standard features, which include options for online and mobile banking and a U.S. Bank Visa® Debit Card.
$500 Bonus Right for You?
It's rarely a good idea to open a bank account just to earn a bonus. Still, if you're looking for a new bank to do business with, then U.S. Bank may be right for you.
Not only does it offer a wide range of financial products, beyond checking accounts, it has physical branches, 24/7 phone support and an online and mobile banking platform.Yet big banks are often known for charging lots of expensive fees, and U.S. Bank is no exception. You'll find free checking accounts in the marketplace without monthly maintenance fees — some of which earn interest and also offer cash bonuses. So compare products with multiple banks before deciding what's best for your personal finances.