Most products on this page are from partners who may compensate us. This may influence which products we write about and where and how they appear on the page. However, opinions expressed here are the author's alone, not those of any bank, credit card issuer, airline or hotel chain. This page may include information about American Express products currently unavailable on Slickdeals. American Express is not a partner of Slickdeals.
SoFi Checking and Savings
Our Rating 5/5 Read the review
APY2.50% - 3.75%

Customers earn 2.50% APY on checking balances and 3.75% APY on savings balances when they set up recurring monthly direct deposit of their paycheck or benefits provider via ACH deposit.

Minimum
Deposit RequiredN/A
Intro Bonus $50-$250Expires March 31, 2023

New customers can earn a $250 bonus for opening a new SoFi Checking and Savings account and receiving a total of $5,000+ in qualifying direct deposits within the specified evaluation period; receive $1,000 - $4,999 in qualifying direct deposits to earn a $50 bonus.
SoFi Checking and Savings has a lot to offer. The signup bonus is strong, and customers receive a few major perks such as the opportunity to earn up to 3.75% APY, no account fees, getting paid up to two days early and automatic savings features.
High Interest Rates With a Valuable Signup Bonus
Meet SoFi Checking and Savings. The financial institution's newest money management tool is much like other deposit accounts, except with one big benefit — you can earn up to 3.75% APY on your savings balances, as well as up to 2.50% APY on checking balances.
Also unlike accounts from other banks, you won't have to jump through a lot of hoops to earn that elevated 2.50% - 3.75% APY. All you have to do is set up monthly direct deposits of your paycheck or government-issued benefits. You won't even have to receive a minimum direct deposit amount to earn that the increased APY.
What's more, new customers can currently earn a sign-up bonus worth up to $250, just for opening a new Sofi Checking and Savings account and receiving qualifying direct deposits.
Read more to find out if signing up for a new account is right for you.
Pros
Accounts with monthly direct deposit earn interest
No minimum opening balance or minimum monthly balance
No maintenance fees, non-sufficient fund fees or overdraft fees
Access to Allpoint's worldwide ATM network
Get paid up to two days early
Cons
No physical branch locations
SoFi Savings and Checking Bonus: $250
It's pretty common nowadays for banks and brokers to offer a welcome bonus when you sign up and meet certain requirements, and the SoFi Savings and Checking account is no different.
New customers can currently earn a one-time bonus of up to $250 when they open a new SoFi Checking and Savings Account before March 31, 2023. Here's how the sign-up bonuses work.
To qualify for the bonus, you must open a new SoFi Checking and Savings Account and receive at least $1,000 in qualifying direct deposits within a 25 day "Evaluation Period" which begins the day your first qualifying direct deposit is received. Hitting the minimum requirement will net you a $50 cash bonus, with one additional bonus tier achievable:
SoFi Checking and Savings Bonus Tiers
| Total Qualifying Direct Deposits | Cash Bonus |
| --- | --- |
| $1,000 – $4,999 | $50 |
| $5,000+ | $250 |
Once you meet the direct deposit requirement, you'll receive your welcome bonus money within two weeks.
SoFi defines qualifying direct deposits as transactions made from an enrolled member's employer, payroll or benefits provider via ACH deposit.
While we've seen larger bonuses tied to this account in the past – a SoFi $300 bonus was available for much of 2022, for example – the interest rates of savings balances are higher than they were during previous promotions, which helps make up for the slightly lower cash payout.
SoFi Direct Deposit Bonus Fine Print
To be eligible for the SoFi Checking and Savings bonus, you'll need to open an account by March 31, 2023.
The deposit must come from your employer, payroll or benefits provider — such as a paycheck or government-issued benefits check. Transfers from Venmo, PayPal and similar peer-to-peer payment services don't count, and neither do ACH transfers from other bank accounts that don't belong to your employer.
Additionally, one important thing to keep in mind with this welcome bonus is that it's considered miscellaneous income for tax purposes. This means you may receive a form 1099-MISC (or Form 1042-S, if applicable) in the mail at the start of tax season, and you'll need to claim that income on your tax return. However, this is a common occurrence with bank account and broker bonuses, and the value of the bonus far outweighs the tax bill.
---
SoFi Checking and Savings Referral Bonus: $25
Once you become a SoFi member, using its mobile app, you can send referral links to friends or family members to also open an account. If they use your unique referral link to open an account, then fund it with $10 or more via qualifyings transfers within 5 days of registration, both you and the person you referred will receive a referral bonus of $25.
SoFi encourages members to send referral links to friends, colleagues, family members and anyone else you think may be interested in opening an account.
How to get the referral bonus
Here's how to get credit for your referral links and earn a referral bonus. Using the SoFi app, log into your account to access your own unique referral link and then do the following:
Look for the "Invite friends" button (or tile) on your SoFi Checking and Savings home screen.
Click on the button to generate referral links for friends via a pre-populated SMS, email or social media.
Terms and conditions apply.
SoFi Promo Codes
No SoFi promo codes are necessary to claim any of the new account bonuses you'll find on this article. Simply follow the steps above, and you will receive your bonus — no promo code needed!
---
What Is SoFi Checking and Savings?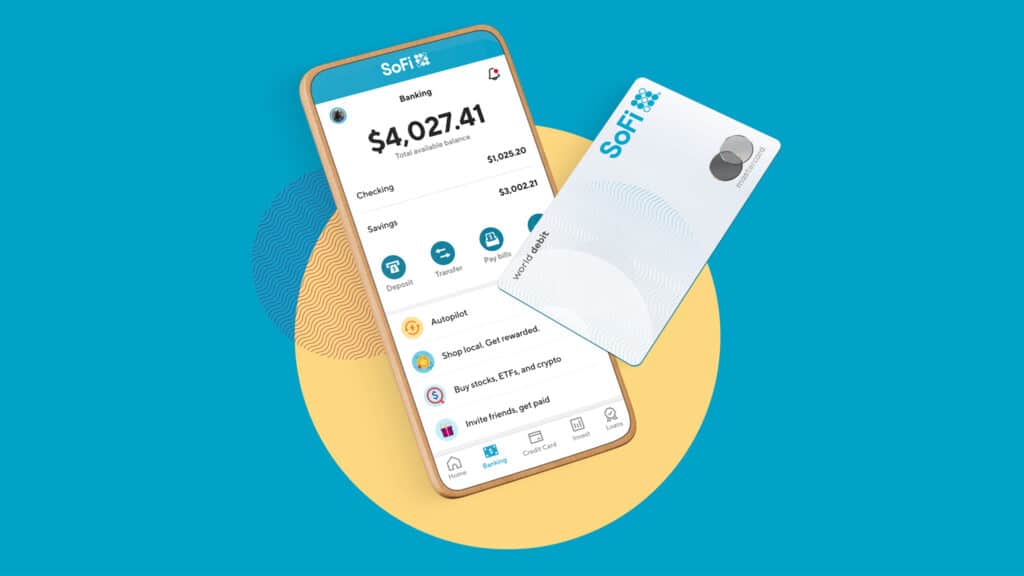 Up until recently, SoFi was not officially a bank — although customer deposits were FDIC insured.
However, in 2022, SoFi became an online bank and, as such, was able to offer its new and current clients traditional banking products.
So if you opened a SoFi Money account prior to the firm's incorporation as a bank, don't worry — you'll keep all of your benefits until your spending account is converted to the new Checking and Savings product.
Currently, SoFi is still an online-only bank. But who knows, perhaps you'll see a brick-and-mortar location in your neighborhood one day.
Earn up to 3.75% APY
SoFi Checking and Savings isn't a high-yield savings account, but it offers a much higher annual percentage yield (APY) on your deposits than the vast majority of checking and also many savings accounts on the market.
How to earn 2.50% - 3.75% APY interest rate
The only requirement to earn increased interest is that you set up a recurring monthly direct deposit of your paycheck or benefits provider via ACH deposit. There's not a minimum direct deposit, either. So regardless if you get a $100 direct deposit from your employer each month or $4,000 in direct deposits — you'll earn 2.50% APY on your checking balances, as well as 3.75% APY on your savings.
While you'll earn a higher interest rate on your savings balance than your checking balance with this offer, 2.50% APY for checking is still strong enough to compete with the best high-yield checking offers.
Keep in mind that deposits that are not from an employer like checks, P2P transfers from PayPal, Venmo or others won't count.
What APY do you earn if you don't have a direct deposit?
If you don't meet the direct deposit requirements, though, your APY will still be a healthy 1.20% APY, which is still higher than rates offered by many other banks.
But if SoFi is your primary account and you can easily meet the direct deposit requirement, you won't have any issues.
SoFi Checking and Savings Work Together
If you're wondering if you can just open a checking or just a savings, the SoFi Checking and Savings comes as a package deal. The good news is that both accounts feature the same requirement to earn elevated interest; once you set up recurring direct deposits, you'll earn 2.50% APY on checking balances and 3.75% APY on your savings.
No Account Fees
With SoFi, you'll never need to worry abut overdraft fees, monthly fees or punitive fees because you didn't meet a minimum balance requirement.
Plus, you'll have fee-free access to the Allpoint ATM network which operates 55,000 cash points nationwide. Still, if you use a non-network ATM, you will incur third-party fees.
Get Paid up to Two Days Early
When you set up direct deposit, you'll recieve your paycheck up to two days earlier.
This early-access feature is based on the timing in which SoFi receives notice of impending payment from your employer or depositor. This is typically up to two days before the scheduled payment date, but your mileage may vary.
SoFi Checking and Savings Rewards
Following the Great Recession, the Federal Reserve capped debit card interchange fees at the behest of Congress, and debit cards with rewards became a dying breed. But recently, they've started making a comeback, especially as online banks and brokers have grown with their lower overhead costs.
SoFi Checking and Savings offers one of these accounts, and its debit card offers up to 15% cash back with select businesses.
When you check your SoFi app, you'll be able to view various offers for up to 15% back from local retailers and businesses. This gives you a chance to support local businesses and get a little something back in return.
Depending on how you spend your money, you may not be able to take advantage of all of these rewards offers. But if your alternative is a checking account at another bank with no rewards at all. It's easy to see that SoFi has an advantage.
Other Benefits
Cash-back reward offers, a high APY and bonus offers may be enough for a lot of people to pick SoFi over other banking alternatives. But if you want more, the account provides more. Here are some of the other features you can look forward to with this hybrid checking-savings account:
Vaults: SoFi Savings Vaults are extensions of your account, where you can earmark funds for certain goals. You can create up to 20 Vaults, and there are no fees or minimum balance requirements.
Roundups: With the Roundups feature, every purchase you make with your debit card will be rounded up to the nearest whole dollar. Then the difference will be automatically transferred to one of your Vaults, which you can dedicate for that savings. Saving a few cents every time you swipe your card may not sound like a lot, but it can add up over time.
Money transfers: The app allows you to transfer money to anyone you want, similar to Venmo or Cash App. If they're a SoFi member, they'll receive the funds instantly. If not, they'll receive the cash within two to three business days after they submit their bank account information to get the funds.
Mobile deposit: While you can't deposit cash into a SoFi account super easily, you can deposit checks via the mobile app.
No ATM fees: Withdrawing cash is fee-free. No ATM fees if you use one of the more than 55,000 ATMs worldwide in the Allpoint network.
Fees
Another benefit of having a SoFi Checking and Savings is that you don't have to worry about account fees, which are what banks and credit unions may choose to charge on all accounts to maintain them. This primarily includes a monthly servicing fee. There are also no ATM fees if you use one of the more than 55,000 ATMs worldwide in the Allpoint network.
That doesn't mean SoFi Checking and Savings is completely fee-free, though. If you use an out-of-network ATM, for instance, you'll be charged a fee by the ATM owner, and SoFi won't reimburse that fee like some other online banks do.
There's also a foreign currency conversion fee of 0.2%, which you'll be charged if you use your debit card to make a purchase or ATM withdrawal in a foreign currency.
How to Maximize SoFi Checking and Savings
SoFi Checking and Savings offers a lot of features that you can't get with a traditional checking or savings account. And because it's partnered with SoFi Invest, it makes it easier to transfer funds between its banking and investment accounts, if that's something you want to do. Read our full SoFi Invest review to learn more.
To maximize the value you can get from SoFi Checking and Savings, here are some things you can do:
Read the fine print on the sign-up bonus to make sure you receive the full amount.
Meet the monthly direct deposit requirement to qualify for the higher APY and cash-back rewards.
Check your mobile app regularly for the latest limited-time cash-back offers.
Take advantage of your Vaults to establish and track different savings goals.
Turn on the Roundup feature, so you can save every time you use your debit card.
With the cash-back offers, it's also important to know when not to take advantage of an offer. In general, if you would've spent the money with or without the rewards, activate the offer and get your rewards. But if you're spending money you wouldn't normally spend just to earn 10% or 15% back, you're losing more than you're gaining.
SoFi Credit Card
SoFi also offers a credit card that pairs well with its Checking and Savings account. The SoFi credit card offers flat-rate 2% unlimited cash back for everyday spending. The credit card awards 1% cash back on all eligible purchases — and when you redeem rewards to pay down eligible debt, transfer to your SoFi Checking and Savings or SoFi Invest account, it awards an extra 1%, for a total of 2%.
Furthermore, when you make 12 on-time payments, the APR on any remaining credit card balance is lowered by 1%. This is a lot of value for a credit card with no annual fee.
SoFi Invest
SoFi Invest provides a lot of different options for investors, including active investing, an automated robo-advisor, retirement accounts, cryptocurrency and even fractional shares. This account occasionally features a bonus for new members or a promotion to win free stock.
SoFi's Active Investing platform helps you make that happen. You can buy stocks and exchange-traded funds (ETFs). There's no account minimum, which means you can start with as little as $1, making it perfect for brand-new investors without high net worths.
Unlike many robo-advisors that charge an annual fee to manage your investment account, SoFi's Automated Investing plan charges no account management fees at all. That's right, you can opt to have your investments managed for you and pay no annual fee.
SoFi Invest also offers cryptocurrency trading. What's more, you can trade crypto directly in the SoFi app, which means you don't have to keep track of complicated cryptocurrency wallet passwords.
SoFi Loans
SoFi Loans offers a variety of personal loans for home improvement, credit card consolidation, medical procedures and relocation assistance. It also offers loans for home owners including mortgages and mortgage refinancing.
Student Loan Refinancing
In addition to private student loans undergraduate and graduate student loans and parent student loans, you can also refinance your student loans. Refinancing is a great solution for working graduates who have high-interest, unsubsidized Direct Loans, Graduate PLUS loans and/or private loans. Federal loans do carry some special benefits like public service forgiveness and economic hardship programs, which may not be accessible to you after you refinance.
Opening a SoFi Account
SoFi isn't right for everyone. If you like in-person service or deal with a lot of cash, using SoFi may be more trouble than it's worth. But if you don't use cash regularly and prefer an online banking setup, it's one of the better banking options out there. Plus, the bonus for new account holders gives you a great excuse to test drive membership.
High Interest Rates with No Account Fees
Ready to open a SoFi Checking and Savings account? Start here.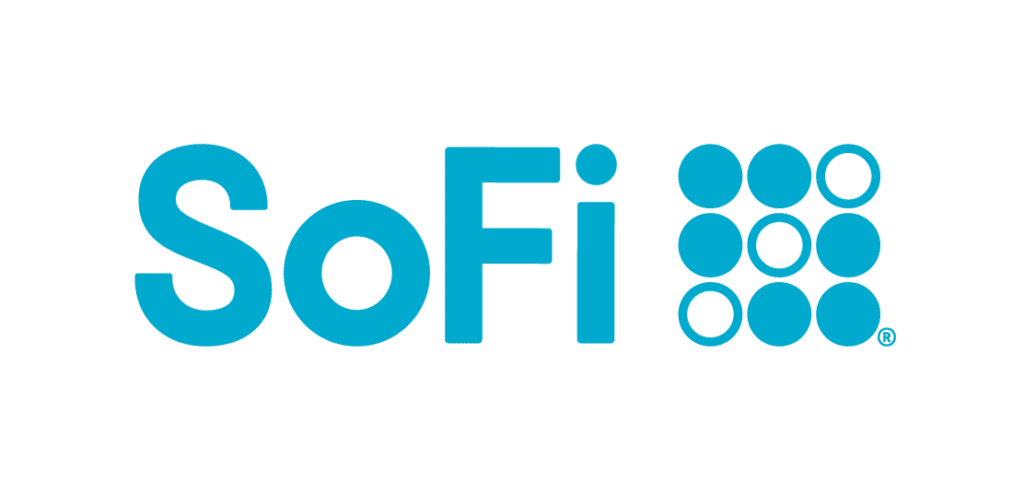 That said, take some time to compare SoFi Checking and Savings with high-yield checking and savings accounts, and compare rates and other features to find the right fit for you.
Frequently Asked Questions
SoFi Checking and Savings is a deposit account offered by SoFi. SoFi Checking and Savings extends account holders up to 3.75% APY on their balances, no monthly fees or overdraft fees, free ATM access via the Allpoint network, and a mobile app.

Friends and family can earn the SoFi Checking and Savings referral bonus by successfully opening a new account and making a deposit of $10 or more within 5 days of account opening. The deposit must be made via an ACH transfer or via "Instant Transfer" from a debit card — Venmo, PayPal, Apple Cash, and other P2P transfer platforms are ineligible to earn the referral bonus. Additionally, SoFi Checking and Savings referral bonuses are not available to residents of Vermont and Ohio or SoFi employees.

When SoFi Checking and Savings account holders set up a Vault, any purchases made with a SoFi debit card are automatically rounded up to the nearest dollar and deposited into the Vault. For example, if you spend $2.50 on a cup of coffee, SoFi debits your account $3 and deposits the extra $0.50 into your Vault. Periodically, SoFi will offer round-up bonuses where members can earn an additional bonus cash just for using the round-up feature.

You should consider the SoFi Credit Card if you prioritize cash-back rewards for your budgeted spending over travel rewards, and if you are a SoFi member or willing to become one. The Sofi Credit Card carries no annual fee, and it offers 2% cash back (earned as points) on all eligible purchases.You can redeem your points to pay down your SoFi Credit Card balance or deposit them into a SoFi Checking and Savings or SoFi Invest account for cash back.
Featured photo courtesy of SoFi