Most products on this page are from partners who may compensate us. This may influence which products we write about and where and how they appear on the page. However, opinions expressed here are the author's alone, not those of any bank, credit card issuer, airline or hotel chain. This page may include information about American Express products currently unavailable on Slickdeals. American Express is not a partner of Slickdeals.
Managing your small business effectively requires a lot of different tools, and arguably the most important area of your business is its financials. Whether it's running payroll, managing your expenses, invoicing, filing taxes or whatever else you need to do to keep things running smoothly, software can help.
While there are many different types of software you can use for various needs, here are some of our top choices to help you succeed.
Best Payroll Software: Gusto
With its three pricing tiers, Gusto offers something for small businesses of all sizes. In addition to you making sure your employees get paid, Gusto can also streamline tax reporting, provide hiring and onboarding tools, allow you to create reports, set up employee benefits and many more.
For a simple plan, you'll pay $40 per month plus $6 per person, and if you want to upgrade to more comprehensive features with a Plus plan, it's $80 per month plus $12 per person. For larger businesses with more complex payroll and human resources needs, you'll need to contact Gusto for pricing. If your business utilizes contractors instead of W-2 employees, you can even set up a cheaper plan costing you just $6 per person.
Pros
Flexible based on your needs.
Affordable without cutting corners on value.
Automatic tax filing for employers.
Unlimited payroll runs.
Cons
Only higher tiers get access to full and priority support.
Pricing can get costly with more employees.
Best Accounting Software: QuickBooks® Online
Intuit
QuickBooks Online is widely preferred by accounting professionals because of its variety of features, ease of accessibility and scalability. There are four different pricing tiers to choose from, starting at just $30 per month and going as high as $200 per month, depending on your needs.
On the basic level, which is best if you only have one user, you'll be able to track your income and expenses, create invoices and collect payments, take advantage of tax deductions, store receipts, customize estimates, manage sales and sales tax and more. With the higher tiers, you'll be able to add more users and get access to more features, such as bill management, profitability projections, employee expense management and much more.
Pros
Easy to scale as your business grows.
Integrates easily with several third-party applications.
Cloud-based for access everywhere you go.
Cons
Monthly costs are expensive compared to other choices.
Requires upgrades to add more than one user.
Has a steep learning curve for new users.
Best Invoicing Software: FreshBooks
FreshBooks
As with the other software we're discussing, one of the most important factors is scalability, and FreshBooks excels with that, offering four different tiers. With the Lite tier, you'll pay $15 per month and can send unlimited invoices to up to five clients. At the Plus level, which costs $30 per month, you can scale up to 50 billable clients, and the $55-per-month Premium tier offers unlimited clients. The highest tier offers customized pricing and is primarily beneficial for other features.
At all levels, you can set up automated, recurring invoices and customize them based on each client's preferences. You can even request upfront deposits instead of waiting until you've completed a project and track your time for specific projects. Finally, you can accept credit card payments and ACH transfers, though you may incur a fee for credit card transactions.
In addition to invoicing, FreshBooks also offers expense tracking, estimates, mileage tracking, reports and many other features, depending on which tier you select.
Pros
Offers several other features.
Allows you to set up automated and recurring invoices.
Integrates with more than 750 different apps.
Cons
Costs more than basic invoicing software options.
Mobile app functionality is limited.
Client limit is low for the lowest tier.
Best Payment Processing Software: Stripe
Stripe
Stripe is a favorite among small business owners who own e-commerce and retail stores. You can accept a handful of different payment methods, including credit cards, debit cards, international payments and even digital wallets.
You can also integrate Stripe with a lot of the different third-party apps that you may already be using to run your business. It can help you create your checkout page, customize the user interface, set up subscriptions and submit invoices and more.
With that said, Stripe isn't the cheapest payment processing software out there, although its pricing is competitive. You'll pay 2.9% plus $0.30 per successful card charge, and starting in November 2022, you'll also be charged an additional 0.5% for manually entering cards. For larger businesses with a lot of payments, you may qualify for volume discounts.
Pros
No setup or monthly fees.
Integrates with hundreds of platforms.
Accepts payments in a wide variety of currencies.
Cons
Won't work with what it deems high-risk merchants.
The learning curve is a bit steep.
Won't allow PayPal payments.
Best Employee Expense Management Software: Expensify
Expensify
While QuickBooks Online is great for your overall accounting needs, Expensify is great for tracking expenses, particularly if you have employees who incur reimbursable expenses. If you want the basics, the free tier offers debit cards for the whole team.
But if you want to integrate Expensify with your accounting software, add multiple approvers and more, you can upgrade to the Collect tier for $5 per user per month or the Control tier for $9 per user per month. Self-employed individuals can also set up an Expensify account to send money to friends, send invoices, track mileage and more.
If you have employees, though, they can easily enter expenses, upload receipts and track their expense reports on a real-time basis. When capturing receipts, the software will even autofill the important details, so you just need to check its work instead of entering everything manually.
And if your employees travel, it also has a feature that notifies them of upcoming trips, delayed flights and more.
Pros
SmartScan technology makes tracking receipts easier.
Provides real-time travel alerts.
Offers next-day deposit for reimbursements.
Cons
May need to do some manual work to match receipts with expense reports.
Has a steeper learning curve compared to similar software.
Best Tax Software: H&R Block®
H&R Block
There are many different types of tax software available, and for many business owners, it may make sense to pay a tax professional to prepare your tax return every year instead of doing it on your own. If you prefer to do it alone, H&R Block is a solid choice.
H&R Block has the tools you need to file your own tax return, but if you have questions or decide that things have gotten too complicated, you can call or visit your local branch to get help from a certified public accountant (for an added fee). It also makes it easy to integrate past returns, even if you filed them with a competitor, and you'll get free audit representation if it comes to that.
The self-employed version of its tax software starts at $114.99 plus $44.99 per state return.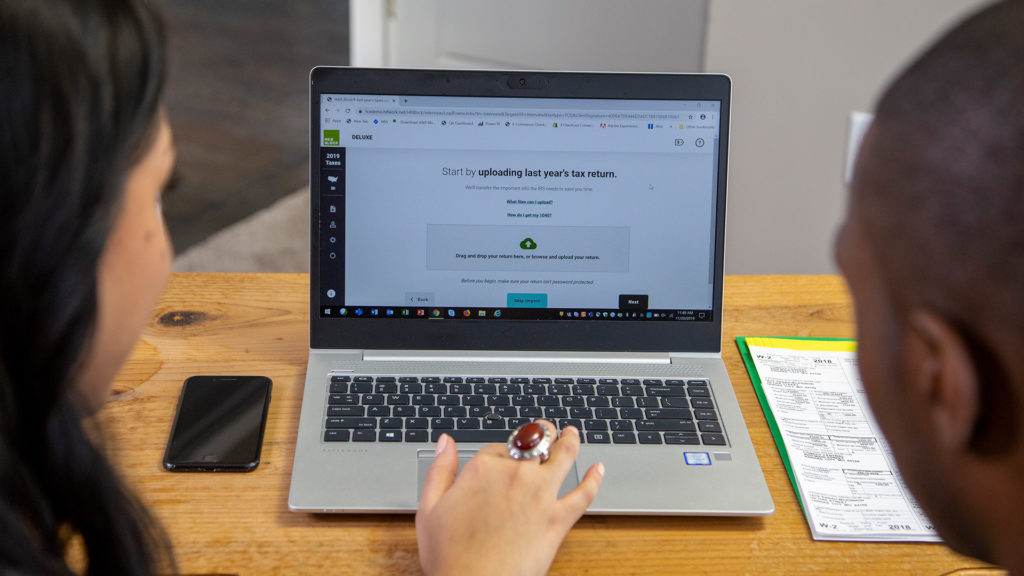 Related Article
9 Best and Cheapest Online Tax Services in December 2023
Pros
Optional live support from a CPA.
Free audit representation.
In-person filing options.
Cons
Does not support filing for partnerships or S Corporations.
Doesn't allow you to work with a third-party tax professional as a preparer.
How to Choose the Right Financial Software for Your Business
While our list of the best financial software for small businesses is well researched, it doesn't mean these are the best fit for your company. As with any other tool or resource, it's important to shop around and compare multiple options for each of these areas of your financials to determine which one is the best fit for you and your needs.
As you compare different options, consider not only the features but also the costs. Even if you can find a free option, it might still make sense to pay for an alternative if it saves you a lot of time. Because it can take a lot of time and effort to switch to a different software later, it's important that you don't speed through the process just to find one and get started.
Earn More on Your Business Purchases