Most products on this page are from partners who may compensate us. This may influence which products we write about and where and how they appear on the page. However, opinions expressed here are the author's alone, not those of any bank, credit card issuer, airline or hotel chain. This page may include information about American Express products currently unavailable on Slickdeals. American Express is not a partner of Slickdeals.
H&R Block
This product is currently not available via Slickdeals. All information about this product was collected by Slickdeals and has not been reviewed by the issuer.
Straightforward and easy-to file tax prep that comes with accuracy and maximum refund guarantees, H&R Block can also handle complex tax needs. Additional support is available from brick-and-mortar locations if needed. Even those opting for the free tier can enjoy robust features, including state filings at no additional cost.
Simple, Intuitive Tax Filing with Robust Support Options
H&R Block has been helping Americans prepare their taxes since the 1950s. Not only is H&R Block one of the oldest tax preparation providers, but it's also one of the most trusted, with over 800 million tax returns on the books since its inception.
If you're planning to do your own taxes this upcoming tax season, H&R Block's online software offers several options, from simple returns to more complex tax situations. The company also offers support from tax pros and in-person help at one of its local offices.
Here's a look at H&R Block's online software, its features, pricing, and who it's best for.
Pros
Multiple packages to fit most tax needs
24/7 customer support
Option to work with a tax professional online or in person
Free version available (with state included)
Easy to switch over from another tax service provider
State filing
Simple navigation & software interface
Ability to upload tax documents digitally
Cons
More expensive than some competitors
Extra fee for state tax filing
Expensive add-ons
At a Glance
Pricing

Free Online: $0

(state included)

Deluxe Online: $55 + $37 per state
Premium Online: $75 + $37 per state
Self-Employed Online: $110 + $37 per state

Features

Mobile app

Second Look review

Easy switchover from other providers

Tax calculators

Checklists

Tax reform updates

Audit support

Add-Ons

Expat services

Tax Pro Go

Tax Identity Shield

Peace of Mind Extended Service Plan

Premium Audit services

Online Assist

Tax Pro Review

Support Options

Phone support
Chat support
Knowledge database
In-office support (by appointment)

Return Options

Direct deposit

Paper check by mail

Use it to cover H&R Block fees

Spruce mobile banking account

Guarantees

No Surprise Guarantee

Maximum Refund Guarantee

100% Accuracy Guarantee

100% Satisfaction Guarantee 

Audit Support Guarantee
Features & Capabilities
H&R Block's software has a user-friendly interface, making it a solid choice for DIY taxes. If you've previously filed taxes with someone else, H&R Block makes it easy to switch over by uploading last year's tax return.
It also provides access to a host of useful features for preparing your taxes. Some unique features are available for all users, while others may require an extra fee. Here's a look at some of H&R Block's most promising features.
Peace of Mind Extended Service Plan
With the Peace of Mind service plan, customers receive protection for the life of their tax return after filing. H&R Block takes the lead and provides support with whatever issues you encounter if you receive a letter from the IRS. It also provides legal representation if you are audited. If the IRS finds mistakes with your tax return that results in paying extra taxes, H&R Block will reimburse you up to $6,000.
The Peace of Mind Extended Service Plan is available for an additional fee.
Second Look Review
If you filed your own taxes or hired someone else to do it the previous three years, H&R Block will review your old tax returns for free to see if you should've received more money.
H&R Block reviews for missing education and other credits, and checks your filing status to determine if filing differently would've earned you a larger return. If you're eligible for money money, H&R Block will refile an amended return on your behalf for free.
Tax Pro Go
Tax Pro Go allows customers to upload their tax documents digitally through their computer, tablet or phone and then get connected with a tax pro who is well-versed in their specific tax situation.
H&R Block even allows you to request the same tax pro each year if you find one you like working with and knows your situation. You can also drop off your documents at a local office or sit down with a tax professional who will prepare your return.
Tax Identity Shield
Did you know you could get your tax identity stolen? H&R Block's Tax Identity Shield protects customers from tax fraud. Tax Shield Identity includes services like dark web searches for your personal information, Social Security Number alerts, tax identity restoration services, and tax return notifications.
Expat Services
If you're a U.S. citizen living outside of America, you likely need to file Expat taxes with the IRS annually. H&R Block's Expat Services provide tax support for U.S. citizens living overseas. There are options to file online or through an H&R Block tax advisor. Expat online services start at $99 and come with unlimited technical support.
Mobile App
HRB Tax Group, Inc.
H&R Block customers can tackle their tax returns digitally through the MyBlock mobile app. Available for iOS and Android, MyBlock allows you to message, screen share or video chat with tax pros, track your return, schedule appointments and upload tax documents.
Online Assist
You can add the Online Assist support option to any online tax package for an added fee. The service comes with unlimited, on-demand support from an H&R Block tax expert through live chat and screen sharing.
Tax Pro Review
Tax Pro Review is another add-on feature. With the service, an H&R tax professional will review your tax return for accuracy and ensure you get the biggest return possible.
Tax Tools
Whether you're well versed in DIY tax preparation or a novice, H&R Block provides several free tools to help you along as you prepare your tax returns. Tax tools include calculators, tax reform information, checklists, and a knowledge database.
Pricing
Similar to other online tax services, H&R Block offers several packages at different price points to fit varied tax needs. Currently, there are four tax return packages available through H&R Block.
Free Online ($0): Includes simple returns, students, unemployment income, W-2 employees and Child Tax Credit. State returns are included.
Deluxe Online ($55): Includes itemized deductions
Premium Online ($75): Includes rental income, investments, and cryptocurrency
Self-Employed Online ($110): Specifically for independent contractors, business owners, and freelancers
H&R Block offers state filings for $37 per state on paid tiers. Filing through a tax pro starts at $85.
H&R Block Support
H&R Block provides live phone and chat support with all of its tax preparation packages except the free version. There are also support features available through the company's mobile app. Beyond that, customers can head to the company's online knowledge database to get answers to tax and software questions.
If you prefer in-person help, you can make an appointment with one of its many offices nationwide.
As mentioned above, H&R Block offers several supplementary services that include more prominent customer support services for an additional fee.
Auditing Services
H&R Block tax pros are well-versed in federal and state taxes if you run into an issue with the IRS. If you receive a notice from the IRS, H&R Block provides a free analysis to gauge the situation. You'll receive upfront pricing for additional Audit services based on your situation, such as if you need auditing defense and representation before the IRS. Customers who purchase the Peace of Mind Extended Service Plan receive audit support for the life of the tax return.
H&R Block
How Does H&R Block Stack Up to Competitors?
H&R Block offers an easy-to-use solution to DIY tax preparation. With several packages to choose from, it's ideal for individuals who want to file taxes on their own, but have the option of help from a tax professional. Each package includes chat and phone support and an array of tax tools for added convenience. It's also a good choice for students and people with simple tax returns.
Although H&R Block is comparable to many competitors, you can find cheaper DIY tax software options. H&R Block has a number of add-ons to support more complex tax situations, but these add-ons can drive up the cost of doing your taxes. If you have a more complex tax situation, there are other tax software packages that you can consider for less.
Is H&R Block Worth It?
H&R Block offers several filing options for your DIY tax needs. The user-friendly software could be the ticket for filing taxes this year. And if you need extra help, H&R Block offers additional support packages and in-person help from tax professionals as a backup.
While it's not the cheapest online tax software, H&R Block tax packages have handy tools to make tax filing a breeze. However, it may not be the best option if you are already familiar with another software or are looking for a budget-friendly solution for complex tax situations.
The Bottom Line
Filing your taxes doesn't have to be a laborious chore, and H&R Block provides the necessary support and tools to do it yourself. The company also covers you if you need extra support or prefer to work with a tax pro. H&R Block operates over 10,000 local offices across the United States and Canada if you prefer to meet with a tax specialist in person.
Assess your tax need to determine if filing your taxes makes sense and if H&R Block's online tax services are right for you. Compare H&R Block's offerings to other tax prep software to determine the best fit for your needs.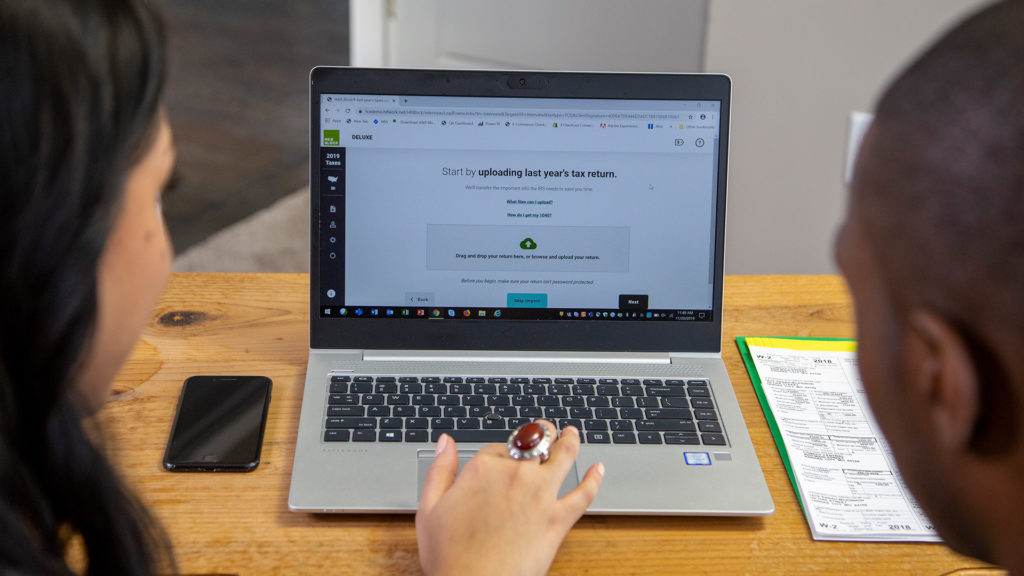 Related Article
9 Best and Cheapest Online Tax Services in September 2023
Frequently Asked Questions
H&R Block's online tax software is a great choice for new DIY tax filers who need step-by-step help walking through their tax return. There's also an option of free filing for simple returns. H&R Block may not be the best option for cheap tax returns compared to some of its competitors.

According to H&R Block, if you're using H&R Block Tax Pro Review, you can expect your return to be reviewed within three days.

H&R Block guarantees transparency with its pricing. Whether it's one of the company's tax preparation packages or one of its add-on services, H&R Block provides pricing before you sign up or pay.

H&R Block guarantees 100% accuracy and reimburses you for any IRS penalties if it makes errors on your tax return.