Most products on this page are from partners who may compensate us. This may influence which products we write about and where and how they appear on the page. However, opinions expressed here are the author's alone, not those of any bank, credit card issuer, airline or hotel chain. This page may include information about American Express products currently unavailable on Slickdeals. American Express is not a partner of Slickdeals.
Liberty Tax®
Get Started
Liberty Tax is known for providing accessible, in-person services to users. With over 2,500 brick-and-mortar locations across the United States, it's a popular choice for those who prefer to receive face-to-face assistance with their taxes. While you can likely find a less expensive online alternatives for simple tax return filing (Liberty Tax doesn't offer a free option), its Premium online tier is a solid, affordable choice for self-employed workers.
Convenient In-Person Tax Services
Liberty Tax® is a popular option among DIY tax preparers despite no free option for simple returns. While its online service isn't quite as streamlined as what you'll find with some of its competitors – for example, its on-site help functionality is somewhat difficult to navigate – Liberty Tax is still a solid option for individuals looking for budget-friendly tax software. And with an extensive network of retail locations spread across the country, it's a popular option for those who prefer to have their taxes done in person with a tax professional.
Pros
Lower prices than some competitors
In-personal tax support at thousands of retail locations
Multiple guarantees for online and in-person tax returns
Cons
No free version for simple tax returns
State returns are more expensive than many competitors
On-site help functionality can be confusing
Poor online ratings, including an F from the Better Business Bureau
Types of Returns and Pricing
Liberty Tax offers three versions of its online tax preparation service. Pricing varies per version and is subject to change.
Basic Edition
Discount Price: $45.95 Federal | $36.95 State
Regular Price: $55.95 Federal | $36.95 State
Unlike many of its competitors, Liberty Tax doesn't offer a free version of its software for simple tax returns. For simple tax situations, use Liberty Tax's Basic Edition. It's specifically for 1040 tax filers making less than $100,000 and supports Schedules A and B, but it also includes:
Standard deduction
Earned income credit
Tuition and fees deduction
This version works for single or married filers but doesn't include kids or dependents.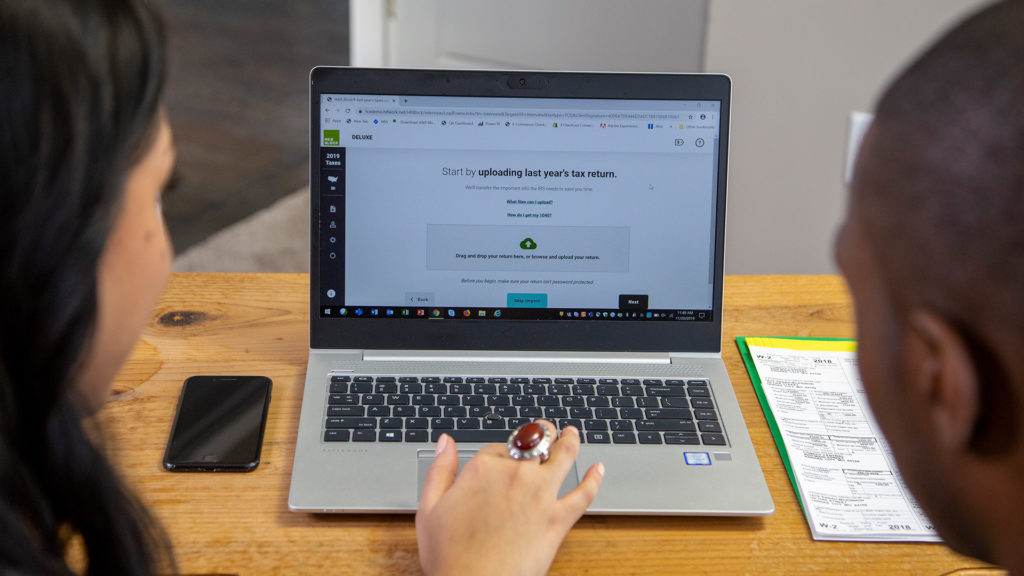 Related Article
9 Best and Cheapest Online Tax Services in December 2023
Deluxe Edition
Discount Price: $65.95 Federal | $36.95 State
Regular Price: $75.95 Federal | $36.95 State
Liberty Tax's Deluxe Edition covers more complicated tax scenarios. Along with all of the features included with the Basic Edition, the Deluxe software package includes:
Family-based tax breaks
Investments
Retirement income
Tax credit for retirement savings
Educator expense deductions
Alimony deductions
Charitable donations
Medical expenses
Premium Edition
Discount Price: $85.95 Federal | $36.95 State
Regular Price: $95.95 Federal | $36.95 State
Liberty Tax's Premium Edition is geared toward self-employed individuals. Premium is the option to pick for your tax return if you're a freelancer or independent contractor. It's also the best version if you have less common forms of income.
Along with what's included in other Liberty Tax editions, the Premium tax prep package covers:
Self-employment income and related business deductions
Rental income
Farming income
Schedule K-1
Unreported tips
Filing In-Person With Liberty Tax
If you prefer to work face-to-face with a tax professional, Liberty Tax also offers in-person tax preparation. Liberty Tax operates over 2,500 retail locations across the United States and Canada. You can schedule an appointment at any location or just walk in.
Features
Liberty Tax offers a handful of convenient tools to help you file your taxes this year, including:
Remote Filing: Snap photos of tax documents through Liberty Tax's mobile app and a tax pro will complete your return remotely.
Free Tax Import: Import your previous tax return from a competitor.
Audit Assistance: Liberty Tax pros provide support on potential issues with your tax return with the IRS or your state.
Tax Return Downloads: Download a copy of any tax return prepared at a Liberty Tax location.
Tax Interview Checklist: Liberty Tax provides a tax interview checklist to organize your tax documents before meeting with a tax pro.
Tax Calculators: Liberty Tax provides free calculators to help you estimate tax returns, refunds, mileage ductions and other W-4 withholding.
Refund Options
Liberty Tax customers can receive their tax refund in several ways. Choose from receiving a paper check or direct deposit from the IRS. You can also choose to have your tax refund loaded onto a Netspend® Liberty Tax® Prepaid Mastercard®.
Refund transfers are also available, which allow you to file your taxes through Liberty without upfront fees, which are later deducted from your federal tax return proceeds.
There's also an option to receive your refund early through an Easy Advance refund loan. Liberty offers several loan amounts ranging from $500 up to $6,250 based on your expected tax return minus any related fees. Loans feature finance charges based on your loan amount.
Related Article
Tax Hack: How to Get a Cash Bonus With Your Tax Refund
Mobile App
Liberty Tax
For tech-savvy customers, the Liberty Tax mobile app allows you to do your taxes remotely from anywhere in the world. The mobile app, available for iOS and Android, allows you to snap photos of tax documents and upload them from your phone.
Customers can also use the app to schedule appointments at Liberty Tax offices, track their tax refund and access money through Liberty Tax's digital wallet. It also gives you access to 24/7 support from tax professionals.
Liberty Tax Support
The Liberty Tax website features several tax tools to help customers as they do their taxes. Tools include a help section for answers to popular tax-related questions, a tax glossary and helpful links for more information.
You can always get in-person help from a tax professional at any Liberty Tax location. You can call 1-866-871-1040 or the office locator online or in the mobile app to find the nearest Liberty Tax office.
Other support options include email and phone support, as well as 24/7 support via Liberty Tax's mobile app. Online support is available Monday through Friday from 9 AM to 5 PM EST.
Is Liberty Tax Secure?
Knowing that your personal and financial information is secure when using an online tax preparation service is important. Liberty Tax employs several security measures to ensure customers' information and tax returns are secure. Security measures include:
SSL encryption
Account authentication
Device verification
Liberty Tax and Audits
While nobody wants to deal with an audit, it can occur after filing a tax return. When comparing tax prep services, consider one that provides support if you face an audit.
Among Liberty Tax's guarantees is the promise of audit assistance should the IRS audit you based on a tax return prepared by your local Liberty Tax office. If that occurs, Liberty Tax will provide someone locally to accompany you to your audit and answer questions about how the return was prepared.
For online returns, Liberty Tax professionals will advise you on potential audits or other inquiries from the IRS or state tax officials.
Other online tax prep companies may offer more free and paid audit support options, including payment of software fees and financial implications related to an audit.
Liberty Tax Guarantees
Liberty Tax stands by the quality of its tax preparation services by offering several guarantees to its customers.
Online returns feature two guarantees:
Accuracy Guarantee: Liberty Tax guarantees its offices will give you the most accurate tax return and will reimburse you for penalties and other costs that are the result of an error on your return.
Maximum Refund Guarantee: Liberty Tax will reimburse you for preparation fees if you can get a bigger tax refund through a competitor.
Liberty Tax also offers several guarantees for tax returns prepared by tax pros at one of its local branch locations, including accuracy, year-long support and audit assistance guarantees. In-person returns also come with correspondence assistance for all IRS and state return correspondence received.
Bottom Line
Liberty Tax isn't the cheapest tax preparation solution, especially for simple returns, nor is it the most comprehensive. However, it's a good option for individuals with more complex tax situations looking for budget-conscious tax services. It's also suitable for people who prefer to get their taxes done in person with the added convenience of digital support tools like Liberty Tax's mobile app.
Related Article
Here Are the 6 Secrets to Evaluating a Tax Preparation Service