Most products on this page are from partners who may compensate us. This may influence which products we write about and where and how they appear on the page. However, opinions expressed here are the author's alone, not those of any bank, credit card issuer, airline or hotel chain. This page may include information about American Express products currently unavailable on Slickdeals. American Express is not a partner of Slickdeals.
So, you're ready to open your first travel rewards credit card. You can't wait to start earning points, miles, and other perks that can help you visit your favorite destinations for free. There's just one problem. With so many credit cards to choose from, you're not sure which account to pick.
Should you apply for the card with the biggest sign-up bonus or the one with the highest reward earning potential? And what about the cost of annual fees, the ease (and potential value) of reward redemptions and additional card benefits?
The Chase Sapphire Preferred® Card may not hold the top spot in all of the categories above (or perhaps any of them). But when you consider the card's numerous advantages and its low $95 annual fee, the combination starts to make a lot of sense for travel rewards beginners.
Chase Sapphire Preferred®
Our Rating 5/5 How our ratings work Read the review
APR21.49% - 28.49% (Variable)
Annual Fee$95
Sign Up Bonus 60,000Chase Ultimate Rewards Points

Earn 60,000 bonus points after you spend $4,000 on purchases in the first 3 months from account opening. Dollar Equivalent: $1,380 (60,000 Chase Ultimate Rewards Points * 0.023 base)
The Chase Sapphire Preferred Card is one of the gold standards for earning travel rewards. It has a generous sign-up bonus and you can earn points on travel and dining expenses. The card does have an annual fee, but you can continue earning points through bonus categories and an anniversary points boost.
Overview
The Chase Sapphire Preferred is pretty flexible as it lets you transfer rewards points into miles or points several airlines and hotel programs. You can take advantage of strong transfer partners such as United, Southwest, Singapore Airlines, Virgin Atlantic and Hyatt. Similarly, you can book any reservation you want through the Chase Ultimate Rewards travel portal. Although the card might not be ideal for the most frequent travelers, it has a built-in upgrade path, so when it's time to level up your travel rewards game, you won't have to start from scratch.
Pros
Points are easily transferable to airlines and hotel partners
Accelerated earnings on dining, travel & household purchases
Excellent travel and purchase protections
No foreign transaction fees
Cons
Not ideal for the highest spenders
$95 annual fee
Here are five big reasons why the Chase Sapphire Preferred might be the perfect starter travel rewards credit card.
1. You Can Earn a 60,000-Point Sign-Up Bonus
Chase is offering a generous sign-up bonus on the Sapphire Preferred—and one of the better credit card bonuses you can find today. The card gives you a chance to earn a whopping 60,000 points.
You can cash in these points for a little extra value when booking travel reservations through the Chase Ultimate Rewards portal. Or you can transfer the points to Chase's airline and hotel partners and possibly get even more mileage out of the exchange.
2. The Annual Fee is a Low $95
Aside from the fantastic sign-up bonus, the Sapphire Preferred's low $95 annual fee is one of its best features. It's easy to redeem enough rewards and benefits to offset this cost each year, and that can make the card a wise choice for those who are new to the world of travel rewards.
However, this annual fee is technically reduced when you factor in the annual $50 hotel credit cardmembers enjoy.
Now, it is true that you can find travel rewards cards that offer more in the way of rewards and benefits. But those cards often come with sizable annual fees—sometimes five or six times higher than the Sapphire Preferred. The Platinum Card® from American Express, for example, is amazing, but features a much steeper annual fee.
3. Chase Ultimate Rewards Points Are Valuable, Flexible and Easy to Redeem
The Chase Sapphire Preferred gives you the opportunity to earn Chase Ultimate Rewards points. These points are some of the most desirable credit card rewards on the market. Here's why.
Chase Ultimate Rewards points:
Are worth an impressive amount according to our points and miles valuation.
Never expire.
Are redeemable at a rate of 1.25 cents for travel booked through the Ultimate Rewards portal.
Can be transferred to 14 hotel and airline partners at a 1:1 ratio.
Are redeemable for gift cards, cash back, experiences and more.
The Sapphire Preferred also plays well with other Chase credit cards. If you hold other Chase accounts, like the Chase Freedom Unlimited® Card, you can transfer those points to your Sapphire Preferred and access the enhanced redemption options detailed above.
Related Article
10 Ways to Redeem 60,000 Chase Ultimate Rewards Points for Travel
4. Earn up to 5X Points on Everyday Spending
Earning rewards from purchases you need to make anyway is one of the most appealing benefits of having a rewards credit card. The Chase Sapphire Preferred Card gives you the opportunity to earn the following points:
5x points on travel booked through Chase Ultimate Rewards
3x points on dining
2X points on any eligible travel-related purchases
1X points per dollar you spend on all other eligible transactions
If you want a card that can earn more travel rewards, you might consider the Chase Sapphire Reserve® Card. The annual fee is $550, but it does offer a higher rewards rate, better redemption value and other attractive benefits. You can also start out with the Sapphire Preferred and ask the issuer to upgrade your account to the Reserve at a later date.
5. Enjoy More Benefits
On top of all of the great features mentioned above, the Chase Sapphire Preferred can offer you several more meaningful benefits, including:
$50 annual hotel credit
10% anniversary point boost
Trip Cancellation/Interruption Insurance
Trip Delay Insurance
Baggage Delay Insurance
Auto Rental Insurance Coverage
Extended Warranty Protection on Eligible Purchases
Purchase Protection
No foreign transaction fees
Even if you only take advantage of one or two of these perks, it can add onto the value you're already receiving from the account.
Next Steps
The Chase Sapphire Preferred card can be a great choice for travel rewards beginners and veterans alike—especially when you take the 60,000-point sign-up bonus into account. If you're considering this card, you should probably check your three credit reports and look over other available rewards credit card offers first. You want to make sure your credit is in good shape before you apply, and comparing offers is always a smart idea before completing any financing application.
Editor's Pick
Ready to apply for the Chase Sapphire Preferred? Start here.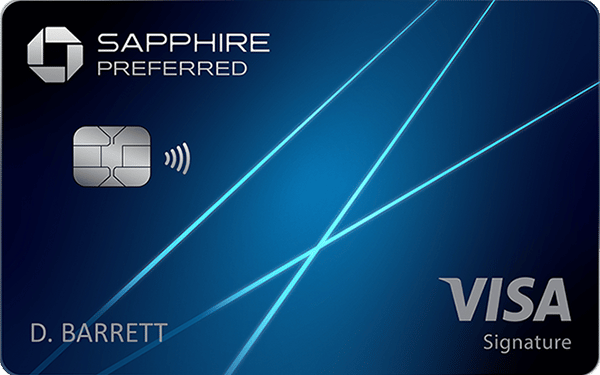 Earn Valuable Points or Miles for Travel