Most products on this page are from partners who may compensate us. This may influence which products we write about and where and how they appear on the page. However, opinions expressed here are the author's alone, not those of any bank, credit card issuer, airline or hotel chain. This page may include information about American Express products currently unavailable on Slickdeals. American Express is not a partner of Slickdeals.
So, you're ready to start earning free travel with credit card rewards. That was me six months ago. I had finally gotten over my aversion to annual fee credit cards and decided to start some low-key travel reward hacking.
Before I applied for any new rewards credit cards, I began with a little research. I wanted to open the best travel credit cards that would help me earn valuable points and miles as quickly and as easily as possible. In the end, I earned more than 300,000 points through American Express and Chase. Here's how I did it.
Step 1: Finding the Right Credit Card and Sign-Up Bonus
As I read advice from respected travel reward enthusiasts, two cards stood out to me — the The Platinum Card® from American Express and the Chase Sapphire Reserve®. Many experts agree that Chase Ultimate Rewards points and American Express Membership Rewards are two of the most valuable types of credit card points you can earn. This is especially true because points from both cards transfer easily to a variety of airline and hotel partners, which may offer a more valuable rate of return.
Tip: If you dislike the relatively high annual fee on the Sapphire Reserve or The Platinum Card from American Express, the Chase Sapphire Preferred® Card , with its lower annual fee, might be a better fit. Plus, it's offering a generous sign-up bonus for new cardholders.
Related Article
Here are the Best Credit Card Bonuses in December
Before you apply for any new credit card, you should check your three credit reports and scores. Since I check my credit every month, I knew my three reports were error-free and my excellent credit scores meant I could apply for whichever card offer I thought was the best deal. (If that sounds like bragging, I promise it's not. I'm a credit expert by trade. My credit rating should be excellent. If it's not, I'm doing something wrong.)
If your credit isn't in great shape, you can work to improve it. In the meantime, it's best to avoid applying for credit card offers that don't fit your credit score range (good, fair, bad, etc.).
Step 2: Meeting the Spending Requirements
Once you qualify for your ideal credit card offer, you'll need to meet the initial spending requirement on the account to earn a sign-up bonus.
To reach the spending thresholds for each bonus, I had to be strategic:
I didn't open the credit cards all at once. Instead, I aimed to earn one single sign-up bonus at a time.
I funneled all household spending through each new card. When I opened a new card, almost all of our family's spending went on that account. My husband and I both paid for groceries, gas, certain utility bills, and even recurring payments (like Hulu and my kids' sports tuition fees) with each new account until we reached the spending requirement.
I timed credit card applications before major purchases. In April of 2019, my family of four and I decided to take a last-minute cruise over spring break. We already had the money in our vacation savings fund to pay in cash, but I opened the Sapphire Reserve, so the $2,100 in cruise line fees could help earn a sign-up bonus. Then, I paid the card off in full to avoid interest. I later repeated the process with another card when I needed a new MacBook for my business. With the American Express Platinum Card, we spent $800 on a new washer and dryer after our family's 17-year-old set stopped working. We paid off the purchase from a household-savings account we contribute to monthly.
I travel frequently. In the last six months, I've traveled at least once a month — primarily for business, but often with my family as well. Those travel purchases earned many valuable points.

Related Article
17 Ways to Meet Credit Card Minimum Spending Requirements for a Bonus
Step 3: Be True to Your Budget
To reach my goal, I had to commit to $14,000 worth of spending, which I realize is a lot. (In my case, $5,000 of those purchases were business expenses.) In reality, $14,000 in spending won't be a realistic goal for everyone, and that's OK. Maybe you shouldn't aim to earn 300,000 reward points in six months. Perhaps for your budget, it may take 12 or even 18 months to meet those spending thresholds, in which case, you'll need to time the opening of each new credit card appropriately.
If you want to win at the credit card rewards game, you need to be 100% committed to never overspending just to accumulate points and miles.
Some people earn far more points than I do. But I don't try to keep up with their earnings. I never spend extra money to chase credit card rewards. Doing so would only set me up for financial and credit problems down the road. If you want to win at the credit card rewards game, you need to be 100% committed to never overspending just to accumulate points and miles.
Step 4: Earning More Points
In addition to the points I earned from welcome and sign-up bonuses, I earned 82,000 additional reward points. This brought my six month total up to well over 300,000. The extra 82,000 points came from regular credit card spending.
However, I aim to never earn just 1% cash back or rewards on purchases. All of the cards I opened offered the chance to earn bonus points when spending money on certain product categories (in my case, I earned a lot of accelerated rewards when paying for food and streaming services).
When making purchases, it pays to think about which card offers the greatest return.
My 3 Favorite Rewards Cards for Earning Points
Do you want to give my strategy a try? Below you'll find the credit card details and applications for the cards I used to earn 300,000 points in six months. You'll also find a few popular travel credit cards for beginners.
Chase Sapphire Reserve®
Our Rating 4.5/5 How our ratings work Read the review
APR22.49% - 29.49% (Variable)
Annual Fee$550
Sign-Up Bonus 60,000Chase Ultimate Rewards Points

Earn 60,000 bonus points after using your card to spend $4,000 within three months of account opening. Dollar Equivalent: $1,380 (60,000 Chase Ultimate Rewards Points * 0.023 base)
This card features an annual credit for travel purchases, which can offset the annual fee, plus bonus points when you sign up. You'll also get free access to tons of Priority Pass lounges and restaurant options around the world, along with access to the upcoming Chase Sapphire Lounge network.
Overview
If you're looking to elevate your travel experience, look no further than the Chase Sapphire Reserve. When you first get approved, you'll earn a sign-up bonus of 60,000 points after you spend $4,000 in the first three months—that's worth at least $900 in travel-related spending booked through Chase Ultimate Rewards® and potentially more if you transfer your rewards to one of Chase's airline or hotel partners.
Pros
An array of premium travel perks including access to Priority Pass lounges
Easy-to-use $300 travel credit that helps offset card's annual fee
Generous rewards rates for spending
Cons
High annual fee may be a deterrent for some
Perks are starting to get stale relative to newer competition
The Platinum Card® from American Express
Our Rating 4.5/5 How our ratings work Read the review
APRSee Pay Over Time APR
Annual Fee$695
Welcome Bonus 80,000Membership Rewards Points

Earn 80,000 Membership Rewards® Points after you spend $6,000 on purchases on your new Card in your first 6 months of Card Membership Dollar Equivalent: $1,520 (80,000 Membership Rewards Points * .019 base)
Cardholders have access to credits for hotels, digital entertainment, Walmart+, airline fees, Uber Cash and more. Those who can use enough credits can offset the hefty annual fee, but otherwise, the value may be out of reach.
Overview
The American Express Platinum Card isn't a standout when it comes to rewards rates, but if you're looking for a card that will elevate your travel experience and provide you with solid monthly lifestyle benefits, this one should be on your radar.
Pros
One of the best cards for premium travel and lifestyle perks
Access to American Express Centurion Lounges, Delta Sky Clubs (when flying same-day Delta), Priority Pass lounges and more
Nearly $1,500 in annual statement credits, from hotels, Uber, CLEAR, digital entertainment and more
Up to 5x points on flights and prepaid hotels
Automatic Gold elite status with Hilton Honors and Marriott Bonvoy hotel programs
Cons
At $695 per year, this premium card has one of the most expensive annual fees
"Use it or lose it" benefits, as statement credits don't roll over
Long list of coupon-like perks may be hard to keep track of
Ink Business Preferred® Credit Card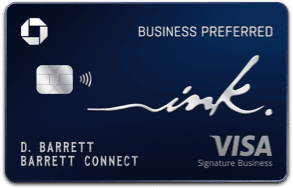 Apply Now
Secure application on issuer's website
Our Rating 4.5/5 How our ratings work Read the review
APR21.24% - 26.24% (Variable)
Annual Fee$95

This fee includes extra cards for authorized users, such as employees, at no additional charge.

Sign Up Bonus 100,000Chase Ultimate Rewards Points

Earn 100,000 bonus points after you spend $8,000 in the first three months Dollar Equivalent: $2,300 (100,000 Chase Ultimate Rewards Points * 0.023 base)
Those with travel and advertising expenses will like the high earning rates in these categories, plus cardholders can eke out even more value with fully transferable rewards through the Chase Ultimate Rewards portal. One drawback is the modest annual fee, though many can offset this with the card's earning potential.
Overview
This card offers a whopping 100,000 bonus points after you spend $8,000 in the first three months — with the card's 25% bonus on travel booked through Chase, that's worth $1,250. But you could potentially get more through one of the bank's transfer partners. The rewards you earn from the Ink Business Preferred Card can be transferred to 10 different airline partners including United, Southwest, Virgin Atlantic, Singapore and British Airways, as well as hotel partners Hyatt, Hilton and Marriott.
Unlike the other two Ink Business cards, you can use this card to transfer your rewards directly to airline miles and hotel points. Travelers may also like this card's cellphone protection policy that will cover up to $600 per claim.
Pros
3x points on 5 different categories (up to $150,000)
Robust travel, purchase and cellphone protections
Ability to earn transferable points to use on travel partners
No additional charge for extra cards for additional authorized users
Cons
$95 annual fee
Businesses that don't spend on the category bonuses won't benefit
Bottom Line: Earning Travel Rewards the Easy Way
All things considered, I'm still somewhat new to the world of travel rewards hacking. I don't use detailed spreadsheets to manage my account balances, and I don't follow a complicated system. I do, however, use AwardWallet to automatically track all of my points, miles and benefits in one place.
My point is this: If I can earn more than 300,000 credit card reward points in the space of six months, many others can do the same. You don't have to be a travel rewards pro to get started, especially if you already have a good credit rating. You can learn and earn as you grow.
Currently, I have plans to earn another sign-up bonus before the end of the year. Holiday spending, which I've already budgeted for, will help me meet some of the spending requirements. Once the new points have been added to my total balance, my goal is to book four round-trip flights to Europe for an amazing family vacation in the future. Wish me luck.
Related Article
3 Credit Cards That Paid for My Family's Trip to Hawaii