Most products on this page are from partners who may compensate us. This may influence which products we write about and where and how they appear on the page. However, opinions expressed here are the author's alone, not those of any bank, credit card issuer, airline or hotel chain. This page may include information about American Express products currently unavailable on Slickdeals. American Express is not a partner of Slickdeals.
Many people learn about the importance of their credit after making mistakes and rebuilding. My story is different. I was 20 years old when I started working in the credit intervention department at a local mortgage company. My job involved helping people who didn't qualify for a mortgage learn how to improve their credit situations.
By showing people how to bounce back from credit problems, I quickly learned just how influential credit reports and scores were over our financial lives. I was scared straight, so to speak, before I ever had a chance to make any big credit mistakes of my own.
As someone who learned early how to earn good credit, I had a strong opinion about credit cards with annual fees. I didn't feel like I needed to waste money on annual fees when I had excellent credit and could qualify for credit cards without them. It turns out, I was looking at things all wrong.
Related Article
Should I Pay a Credit Card Annual Fee?
Why I Didn't Like Annual Fees
For years, I avoided annual-fee credit cards altogether. I did not, however, avoid credit cards themselves.
I understood that:
Well-managed credit cards can potentially help you earn good credit scores.
Credit cards offer better fraud protections than cash or debit cards.
I like free stuff and credit cards gave me the chance to earn rewards and cash back.
Yet even though I liked earning valuable credit card rewards, I worried that annual fees were a potential waste of money. Sure, certain credit cards gave you the chance to earn more value in rewards than the cost of their fees, but it felt like a lot to keep up with. I thought I was too busy to manage the process correctly. And I didn't want to keep track of points to ensure I was getting enough value from the card. In hindsight, my misguided opinion cheated me out of some pretty great opportunities over the years.
Why I Changed My Mind About Annual Fees
Eventually, I met other credit and financial experts who had very different opinions than me when it came to credit cards with annual fees. These weren't out-of-control credit card churners, but people I respected who took advantage of lucrative credit cards rewards, like free vacations, while still maintaining great credit.
Eventually, my husband and I decided to open a credit card with an annual fee — the Southwest Rapid Rewards® Priority Credit Card. Actually, we opened two annual-fee credit cards (one in each of our names).
The $149 annual fees for each card were well worth the value we got in exchange. Shortly after opening the accounts, we each met the $4,000 spending requirement (courtesy of an HVAC unit that needed to be replaced in our home) and earned our sign-up bonuses*:
30,000 Southwest Rapid Rewards Points Each
Free Companion Pass (Per Card) for the Remainder of 2019
*At the time, the Southwest Rapid Rewards Priority Card offered 30,000 bonus points for new cardmembers. However, limited-time offers change frequently.
We then used our sign-up bonuses to score four almost-free roundtrip flights from Charlotte to Houston, where we caught a cruise out of the Port of Galveston. The four flights would have cost more than $1,700, but we only paid around $10 each for taxes.
In the end, we swapped out $298 in annual fees for a little over $1,700 in flights. That's an extra $1,402 in value, and a pretty great deal in my book.
By comparison, if I'd paid for our $8,000 HVAC unit replacement with my 2% cash back rewards card, I would have only gotten $160 cash back. My previous no-annual-fee philosophy would have cheated me out of an extra $1,242 in value.
Our two Southwest Rapid Rewards Priority Cards were just the beginning. Now that I've embraced the rewards I can earn on credit cards with annual fees, I have a few new cards in my wallet. Here are my favorites:
Chase Sapphire Preferred®
Our Rating 5/5 How our ratings work Read the review
APR21.49% - 28.49% (Variable)
Annual Fee$95
Sign Up Bonus 60,000Chase Ultimate Rewards Points

Earn 60,000 bonus points after you spend $4,000 on purchases in the first 3 months from account opening. Dollar Equivalent: $1,380 (60,000 Chase Ultimate Rewards Points * 0.023 base)
The Chase Sapphire Preferred Card is one of the gold standards for earning travel rewards. It has a generous sign-up bonus and you can earn points on travel and dining expenses. The card does have an annual fee, but you can continue earning points through bonus categories and an anniversary points boost.
Overview
The Chase Sapphire Preferred is pretty flexible as it lets you transfer rewards points into miles or points several airlines and hotel programs. You can take advantage of strong transfer partners such as United, Southwest, Singapore Airlines, Virgin Atlantic and Hyatt. Similarly, you can book any reservation you want through the Chase Ultimate Rewards travel portal. Although the card might not be ideal for the most frequent travelers, it has a built-in upgrade path, so when it's time to level up your travel rewards game, you won't have to start from scratch.
Pros
Points are easily transferable to airlines and hotel partners
Accelerated earnings on dining, travel & household purchases
Excellent travel and purchase protections
No foreign transaction fees
Cons
Not ideal for the highest spenders
$95 annual fee
Chase Freedom Flex℠
This product is currently not available via Slickdeals. All information about this product was collected by Slickdeals and has not been reviewed by the issuer.
Our Rating 4.5/5 How our ratings work Read the review
APR20.49%-29.24% (Variable)
Annual Fee$0
Sign-Up Bonus $200Cash Bonus

Receive a $200 bonus after you spend $500 in the first three months.
The Chase Freedom Flex card expands on the already lucrative Chase Freedom card. The Freedom Flex also gives cardholders access to Chase Ultimate Rewards, which is arguably the most versatile rewards platform, and you'll get plenty of redemption options at good rates. Plus, if you have one of the program's travel cards, you can transfer points from your Freedom Flex to your travel card account and get even more value and flexibility with how you redeem.
Overview
Getting more in cash back is a clear win for anyone who is considering the Freedom Flex card. This card is ideal for anyone who want to maximize cash-back rewards with the option to get more value with travel redemptions.
Pros
Generous earnings on select rotating categories each quarter
Cellphone and trip insurance coverage
No annual fee
Ability to convert rewards to transferable Ultimate Rewards points
Cons
Can't transfer Chase points to travel partners unless paired with select products
Ink Business Preferred® Credit Card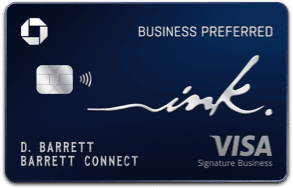 Apply Now
Secure application on issuer's website
Our Rating 4.5/5 How our ratings work Read the review
APR21.24% - 26.24% (Variable)
Annual Fee$95
Sign Up Bonus 100,000Chase Ultimate Rewards Points

Earn 100,000 bonus points after you spend $8,000 in the first three months Dollar Equivalent: $2,300 (100,000 Chase Ultimate Rewards Points * 0.023 base)
Those with travel and advertising expenses will like the high earning rates in these categories, plus cardholders can eke out even more value with fully transferable rewards through the Chase Ultimate Rewards portal. One drawback is the modest annual fee, though many can offset this with the card's earning potential.
Overview
This card offers a whopping 100,000 bonus points after you spend $8,000 in the first three months — with the card's 25% bonus on travel booked through Chase, that's worth $1,250. But you could potentially get more through one of the bank's transfer partners. The rewards you earn from the Ink Business Preferred Card can be transferred to 10 different airline partners including United, Southwest, Virgin Atlantic, Singapore and British Airways, as well as hotel partners Hyatt, Hilton and Marriott.
Unlike the other two Ink Business cards, you can use this card to transfer your rewards directly to airline miles and hotel points. Travelers may also like this card's cellphone protection policy that will cover up to $600 per claim.
Pros
3x points on 5 different categories (up to $150,000)
Robust travel, purchase and cellphone protections
Ability to earn transferable points to use on travel partners
No additional charge for extra cards for additional authorized users
Cons
$95 annual fee
Businesses that don't spend on the category bonuses won't benefit
Bottomline
If you're nervous about credit cards with annual fees, remember that you don't have to start with one of the large-fee cards. Pick one with a low annual fee that earns better rewards in an area where you have higher spending levels (e.g. groceries, dining, gas stations, etc.). Then see how much value you get in exchange.
Regardless of which type of credit card you choose (annual fee or fee-free), be sure to pay off your full statement balance each month. This will both save you money and protect your credit scores from potential damage. After all, money saved and good credit are the best rewards of all.