Most products on this page are from partners who may compensate us. This may influence which products we write about and where and how they appear on the page. However, opinions expressed here are the author's alone, not those of any bank, credit card issuer, airline or hotel chain. This page may include information about American Express products currently unavailable on Slickdeals. American Express is not a partner of Slickdeals.
Making purchases online can sometimes be a risky undertaking. You can often find amazing deals (like the kind I love to discover with Slickdeals Deal Alerts). But other times, you can get ripped off. The latter happened to me a few months when I tried to purchase an electronic device as a birthday present for my husband, Donald.
The Case of the Missing Birthday Present
Donald is a bass fisherman. So when I found a great price on a new Hummingbird Fishfinder–one of his favorite brands—the offer was too good to pass up. I was already picturing the smile on his face and my "wife of the year" award before I clicked the "buy now" button.
I placed the order online, paid with my Chase Sapphire Reserve® card and began the not-so-fun process of waiting for delivery. (Does anyone else check their delivery tracking status twice a day? Or is that just me?) However, the estimated delivery date came and went, and no package arrived on my doorstep.
Related Article
How I Bought a Car with My Credit Card, Earned a Bunch of Rewards and Didn't Pay Any Interest
Despite the now-established fact that I tend to obsessively track my packages, shipment tracking wasn't an option with this order. So, I reached out to the merchant.
First, I sent an email, but I didn't receive a reply. Next, I attempted to call the merchant, but I only reached a pre-recorded message. It was around this point that I realized I had probably made a mistake. And, sure enough, after a little more research, I came to the conclusion that I had been scammed.
My Credit Card Issuer Saved the Day
Once I realized that I was a victim of credit card fraud, I reached out to my card issuer (Chase) right away. I reported the problem and disputed the charge.
From there, the process was easy.
My card issuer took the details of my dispute over the phone.
I received reimbursement for the fraudulent charge.
My card issuer sent me a new credit card (with a new account number) since my former card might have been compromised.
It is important to point out that one of the reasons this process was so easy is because I contacted my card issuer as soon as I became aware of the problem. When it comes to credit card fraud, you can run into problems if you don't dispute unauthorized or otherwise fraudulent charges in a timely manner.
Why I Was Able to Dispute the Phony Charge
I was able to dispute the fraudulent charge on my credit card account because federal law empowers me to do so. The Fair Credit Billing Act (FCBA) protects me (and every other credit card user) in cases of card loss or theft.
Thanks to the FCBA, my liability for fraudulent credit card transactions is capped at $50, as long as I file a dispute within 60 days. But as you can see from my story above, I didn't even have to pay the $50. All four major credit card networks (Visa, Mastercard, American Express, and Discover) have zero-liability policies that protect me when I use their cards.
Related Article
I Haven't Used My Debit Card In Years. Here's Why
Credit Cards Protect Me Better Than Debit Cards
Robust fraud protections are one of the key reasons why I favor credit cards over debit cards for purchases. This most-recent experience isn't the only time someone has stolen money from me online. I also favor paying with a credit card over using a check, since paying with a check left me vulnerable to theft in the past.
If I had used a debit card to pay for my husband's birthday gift, I wouldn't have enjoyed the same fraud protections. Yes, I probably would have gotten my money back eventually (thanks to the Electronic Funds Transaction Act). But personal funds from my checking account may have been tied up while my bank investigated the theft.
My Favorite Credit Cards
Aside from fraud protections, I also prefer credit cards because I like free stuff. Some of the rewards credit cards I keep in my wallet offer me cash back and, even better in my opinion, the opportunity to earn free travel.
Best of all, I don't have to spend extra money or pay any interest to enjoy these perks. I simply use my credit cards to buy the things that I need anyway. Then, I pay off my full statement balance each month to avoid expensive interest fees.
Slick Tip: You have to commit to paying off your credit card balances every month. Otherwise, the interest you pay will offset any rewards you might earn. It's a credit card management mistake I made before, and I have since learned to avoid it.
At present, I carry more than a dozen different credit cards. (And I use those cards to maintain a great credit rating, too.) Below are a few of my favorites.
Chase Sapphire Reserve®
Our Rating 4.5/5 Read the review
APR21.24% – 28.24% (Variable)
Annual Fee$550
60,000 60,000Chase Ultimate Rewards Points

Earn 60,000 bonus points after using your card to spend $4,000 within three months of account opening. Dollar Equivalent: $1,320 (60,000 Chase Ultimate Rewards Points * .022 base)
The Chase Sapphire Reserve® card is among the best travel credit cards available. Not only does it offer one of the best credit card sign-up bonuses, but the card also comes packed with a number of valuable travel and lifestyle benefits that warrant its premium price tag.
Overview
If you're looking to elevate your travel experience, look no further than the Chase Sapphire Reserve. When you first get approved, you'll earn a sign-up bonus of 60,000 points after you spend $4,000 in the first three months — that's worth at least $900 in travel-related spending booked through Chase Ultimate Rewards® and potentially more if you transfer your rewards to one of Chase's airline or hotel partners.
Pros
An array of premium travel perks including access to Priority Pass lounges
Easy-to-use $300 travel credit that helps offset card's annual fee
Generous rewards rates for spending
Cons
High annual fee may be a deterrent for some
Perks are starting to get stale relative to newer competition
Ink Business Preferred® Credit Card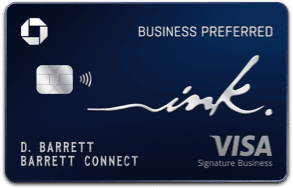 Apply Now
Secure application on issuer's website
Our Rating 4.5/5 Read the review
APR20.24% – 25.24% (Variable)
Annual Fee$95
100,000 100,000Chase Ultimate Rewards Points

Earn 100,000 bonus points after you spend $15,000 in the first three months Dollar Equivalent: $2,200 (100,000 Chase Ultimate Rewards Points * .022 base)
If you're a business owner who travels a lot for work or pleasure, this card is an ideal choice. Between a robust 3x points on five categories and the ability to use transferable Ultimate Rewards points, this card is a no-brainer despite the $95 annual fee.
Overview
This card offers a whopping 100,000 bonus points after you spend $15,000 in the first three months — with the card's 25% bonus on travel booked through Chase, that's worth $1,250. But you could potentially get more through one of the bank's transfer partners. The rewards you earn from the Ink Business Preferred Card can be transferred to 10 different airline partners including United, Southwest, Virgin Atlantic, Singapore and British Airways, as well as hotel partners Hyatt, Hilton and Marriott.
Unlike the other two Ink Business cards, you can use this card to transfer your rewards directly to airline miles and hotel points. Travelers may also like this card's cellphone protection policy that will cover up to $600 per claim.
Pros
3x points on 5 different categories (up to $150,000)
Robust travel, purchase and cellphone protections
Ability to earn transferable points to use on travel partners
No additional charge for extra cards for additional authorized users
Cons
$95 annual fee
Businesses that don't spend on the category bonuses won't benefit
Southwest Rapid Rewards® Priority Credit Card
This product is currently not available via Slickdeals.
Our Rating 4.0/5
APR20.24% – 27.24% (Variable)
Annual Fee$149
50,000 50,000Southwest Rapid Rewards Points

Earn 50,000 points after spending $1,000 on purchases in the first 3 months. Dollar Equivalent: $700 (50,000 Southwest Rapid Rewards Points * 0.014 base)
The Southwest Rapid Rewards® Priority Credit Card makes it effortless to rack up bonus points toward award flights. Plus, all points earned on the card count toward unlocking the coveted Southwest Companion Pass or A-List status.
Overview
When you look at benefits like a $75 annual travel credit, four upgraded boardings each year, free checked bags and discounts on in-flight purchases, the Southwest Rapid Rewards® Priority Credit Card is probably the most affordable of all the Southwest credit cards. Similarly, the 7,500 bonus points each cardmember anniversary really pack on the value and offset this card's $149 annual fee.
Pros
Although there's a $149 annual fee, the $75 Southwest annual travel credit makes the card much more affordable for frequent flyers
7,500 anniversary bonus points as a cardmember
Earn towards a coveted Southwest Companion Pass
4 Upgraded Boardings per year when available
Cons
Higher annual fee may not be a fit for some
Must fly Southwest with some frequency for card to make sense
If you're considering a new credit card but don't know where to start, the following guide is a great place to learn how to navigate the process: 6 Simple Steps to Getting Approved for a New Credit Card