Most products on this page are from partners who may compensate us. This may influence which products we write about and where and how they appear on the page. However, opinions expressed here are the author's alone, not those of any bank, credit card issuer, airline or hotel chain. This page may include information about American Express products currently unavailable on Slickdeals. American Express is not a partner of Slickdeals.
Ink Business Cash® Credit Card
Our Rating 4.5/5 Read the review
APR17.49% - 23.49% (Variable)
Annual Fee$0
$900 $900Cash Bonus

This card offers you $900 in cash back after you spend $6,000 on purchases within three months of account opening.
Small business owners and sole proprietors who want flexibility in their credit card rewards will certainly benefit from this no-annual-fee card, especially if you spend on select categories.
A No-Annual-Fee Small Business Staple
Even if your business isn't officially registered as an LLC or a corporation, a business credit card might still benefit you. Sole proprietors, like freelancers and more, should still separate personal and business expenses for tax purposes.
Some of my favorite business credit cards are part of the Chase Ink Business family. Below is a look at the Ink Business Cash® Credit Card. If you use the account wisely, everyday business purchases can turn into awesome perks. You could earn thousands of dollars in cash back during your first year as a cardholder. If you trade that cash back in for travel rewards, you might be able to get even more mileage out of your rewards.
In addition to earning excellent cash-back rewards, it also provides cards for employees at no additional charge and includes competitive introductory bonus offer of $900 for new cardholders who spend $6,000 on purchases within the first three months of account opening. This sign-up bonus can be redeemed for $900 cash or gift cards. However, you can potentially earn much more if you also have another Chase card that earns Ultimate Rewards points (like the Chase Sapphire Preferred® Card by transferring your rewards into points with Chase's 10 airline partners or with its three hotel programs.
Pros
No annual fee
5x back on a broad array of business spending categories
Robust travel and purchase protections
Don't need a full-fledged business to apply
Cons
Businesses that don't spend on the category bonuses won't benefit
Sign-Up Bonus
Ink Business Cash Credit Card comes with a sizable sign-up bonus for new cardmembers. You can earn a one-time $900 cash back sign-up bonus after you spend $6,000 on purchases in the first three months from account opening. That's on top of the cash back you'll earn for those initial purchases.
You can redeem your cash back rewards for cash back, travel gift cards and more through Chase's popular rewards program, Chase Ultimate Rewards. Also, your Ink Plus points are worth 25% more when you redeem them for travel through Chase Ultimate Rewards.
Rewards Rate
Ink Business Cash Credit Card is one of the premier business cash-back cards on the market. It offers accelerated cash back in several bonus categories that will align with most businesses' budgets. Here's a look at the Ink Business Cash Card's current rewards rates:
5% cash back on the first $25,000 spent in combined purchases at office supply stores and internet, cable and phone services each account anniversary year
2% cash back on the first $25,000 spent in combined purchases at gas stations and restaurants each account anniversary year
Unlimited 1% cash back on all other purchases
You'll earn cash back for your business regardless of the spending category. With free cards for all of your employees, they'll earn you cash back for purchases too.
The cash back points you earn never expire as long as your account remains open. That means you can use your cash back rewards as you earn them or save them up and redeem them at a later time.
Annual Fee
Ink Business Cash Credit Card carries no annual fee. You benefit from rewards earning and other perks without any extra out-of-pocket costs for you or your business.
Intro APR
Another perk included with the Ink Business Cash Credit Card is an introductory APR offer. Cardmembers enjoy introductory 0% APR on purchases for the first 12 months, after which the 17.49% - 23.49% (Variable) applies based on your creditworthiness. This allows you to make large purchases for your business and pay it off over time without interest charges. Keep in mind that you need to make minimum monthly payments or your account switches to the default APR. You also need to pay off those purchases during the introductory period, or you'll end up paying interest.
The introductory APR offer doesn't extend to balance transfers.
Regular APR
Following the introductory period, the Ink Business Cash Credit Card charges a 17.49% - 23.49% (Variable) APR based on your creditworthiness. APRs fluctuate throughout the year as card issuers adjust rates to the market. The variable APR is comparable to other business credit cards.
Credit Score
Even with business credit cards, your personal credit and credit score matters to credit card issuers. You'll be asked to supply personal information during the application process and subject to a hard credit inquiry.
Most credit card issuers don't publicly disclose credit score requirements to qualify for specific cards. The Ink Business Cash Credit Card is designed for people with good to excellent credit scores (690-850).
Knowing your current personal credit score can help you as you explore new credit cards for your business. There are three major credit bureaus in the US, and you can check and monitor your credit scores for free. Using a free service like Experian Boost can help increase your credit score.
Card Benefits
Beyond rewards earning, the Ink Business Cash Credit Card comes packed with other valuable perks business owners will love. Cardmembers will enjoy several business and travel-related benefits, including:
Free employee cards: Enjoy complimentary credit cards for your employees. You'll earn the same rewards rates with each card you open. You can also set spending limits on each card.
Business reports: Chase gives your business 24/7 access to valuable reports to help you track expenses and more. Reports include monthly statements up to 24 months, quarterly reports and more.
Bookkeeping integration: Your Chase Ink card account easily integrates with popular bookkeeping software, allowing you to track expenses and maintain detailed tax-related records.
Purchase protection: With the Ink Business Cash Credit Card, your purchases are covered up to 120 days against damage and theft. There's a $10,000 limit per claim and $50,000 per account.
Extended warranty protection: Any of your purchases that come with an eligible US manufacturer's warranty of three years or less will receive an extra year of coverage when you pay with your Ink card.
Car rental insurance: Car rental purchases made with your Ink Business Cash Credit Card receive auto rental collision damage coverage. You'll need to decline the rental company's coverage to qualify.
Assistance services: Cardmembers also have access to both travel and emergency assistance services. Note that you are responsible for any costs related to services and goods received.
Roadside dispatch: As a cardmember, you also get access to roadside assistance via Chase. Services include towing, jumpstarts, tire changes, lockout service, gas delivery and more. Keep in mind there are charges for these services, which are explained before you agree to receive any services.
Fees
We mentioned that the Ink Business Cash doesn't have an annual fee, but you could face other fees when you use your card.
The Ink Business Cash's intro APR offer helps you avoid paying variable APR on purchases for the first 12 months (after that a 17.49% - 23.49% (Variable) APR applies based on your creditworthiness). Once the intro period ends, you can avoid costly interest charges by paying off your card in full each month by the due date.
Unfortunately, with 3% foreign transaction fees on all international purchases, the Ink Business Cash Card isn't a great option for individuals who travel outside the U.S. frequently. You are better off saving your Ink card for other purchases. You can then pair it with another travel rewards credit card that doesn't charge foreign transaction fees to use on international business trips.
Redeeming Rewards
Finding the right business card and opening your new account are two important steps toward earning more rewards. Want to boost the value you get out of your new Ink Business Cash Card? Here's a look at one of my favorite rewards-earning strategies you can use with this card.
The Gift Card Strategy
The Chase Ink Business Cash is currently one of the best credit cards for buying gift cards. The reason why is because office supply stores are among the card's several bonus categories, and these stores frequently carry third-party gift cards.
Let's imagine that you own a lawn care service. You need to purchase $500 worth of supplies from your local home improvement store. If you take a trip to Lowe's to buy what you need, you'd earn 1% cash back with your Ink Business Cash Card. But because the Ink Business Cash offers 5% cash back at office supply stores (up to $25,000 spent per year), if you first visit an Office Max and buy a $500 Lowe's gift card, suddenly your purchase becomes worth five times the rewards.
Just be aware, you should use this strategy with caution. Card issuers can take back your rewards if they think you're abusing the system.
Transferring Cash-Back Points
Earning 5% cash back on gift card purchases is already a great value. But if you're willing to pair your Ink Business Cash Card with other Chase credit cards, you may be able to earn even more rewards.
Let's assume that your business spends the full $25,000 limit each year in the Ink Business Cash's 5% bonus categories. You would earn an impressive $1,250 cash back or 125,000 Ultimate Reward Points.
But if you hold another Chase Ultimate Rewards card that charges an annual fee, you have more options. First, your points multiply if you use them to book travel through the Chase Ultimate Rewards portal.
Quick Tip
Your points are worth even more if you hold one of the following Chase cards:
25% more points with the Chase Sapphire Preferred® Card.
50% more points with the Chase Sapphire Reserve®.
25% more points with the Ink Business Preferred® Credit Card.
Building on the scenario above, your reward earnings would be worth up to 187,500 Ultimate Reward Points if you also carry the Sapphire Reserve card.
If you hold any of the three cards above, you can also transfer your points to a Chase airline or hotel partner. This is perhaps the best potential deal of all. This list includes:
Air Lingus
British Airways Executive Club
Emirates Skywards
Flying Blue Air France/ KLM
Iberia Plus
JetBlue TrueBlue
Singapore Airlines KrisFlyer
Southwest Airlines Rapid Rewards
United MileagePlus
Virgin Atlantic Flying Club
IHG Rewards Club
Marriott Bonvoy
World of Hyatt
Related Article
Chase Travel Rewards: Guide to Chase Ultimate Rewards
Comparing Ink Business Credit Cards
Chase Ink Business Cash isn't the card issuer's only business card offering. Chase offers several business credit cards, including several co-branded airline credit cards.
This card also isn't the only member of the Chase Ink family. Chase offers a suite of Ink business cards to meet a variety of business needs. Here is a quick look at other Ink business cards currently available.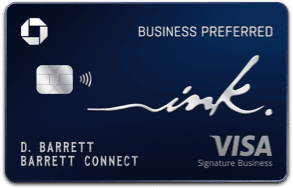 Ink Business Preferred® Credit Card
$95 Annual Fee
$2,200 Editor's
Bonus Estimate
100,000 100,000Chase Ultimate Rewards Points
Apply Now
Secure application on issuer's website
Ink Business Unlimited® Credit Card
$0 Annual Fee
$900 Editor's
Bonus Estimate
$900 $900Cash Bonus
Apply Now
Secure application on issuer's website
Is the Ink Business Cash Credit Card Right for You?
As a credit expert, I'll never recommend spending extra money to pursue rewards. In fact, that's a recipe for financial and credit disaster, which can offset the rewards you earn anyway. Yet I'm all for earning as many points as possible on legitimate purchases.
This desire to optimize reward earnings is why I aim to never earn just 1% rewards on a purchase. I've had to open several different credit cards over the years to maximize my rewards-earning potential. Currently, I have a dozen credit cards, including one from the Chase Ink Business lineup.
If you're looking for a new business rewards credit card, the Ink Business Cash Card can be a great option. Its 5% rewards rate in bonus categories is hard to beat, especially on a card with no annual fee. Aside from one hard credit inquiry that may or may not affect your credit score when you apply, it's hard to see any downside in adding such a valuable rewards card to your wallet. The upside, on the other hand, could be significant.
Frequently Asked Questions
Chase has an unofficial rule known as 5/24. The 5/24 rule makes it so you can't qualify for a new Chase card if you have opened five or more credit cards in the last 24 months.

This rule, however, often doesn't apply to business credit cards (as long as they don't show up on your personal credit reports). So, the Ink Business Cash Card probably won't count toward your Chase 5/24 total.

Wondering if you can qualify for a business credit card? In general, if you sell goods or services to others, you're probably eligible. Those goods and services might include freelance work (like photography, tutoring or childcare), online sales (like eBay or Amazon), rideshares and more.

If your business isn't registered as an LLC or corporation, you can still fill out business credit card applications under your name as a sole proprietor. You'll need to supply your Social Security number when asked. (Note: Even if your business is officially registered, you'll likely need to provide your SSN, along with your Employer Identification Number (EIN), to apply for a new account.)

Although you're applying for a business credit card, your personal credit will almost certainly be checked as well. So, it's wise to check your three consumer credit reports from Equifax, TransUnion and Experian before you apply. Make sure they're error-free and in good shape. You can check your credit reports for free once every 12 months at AnnualCreditReport.com.

If business funds are tight, a business credit card might help build a margin into your cash flow. In other words, buy what your business needs now and use the extra time to collect business payments before your credit card bill is due. However, you should be very careful with this approach. It's a slippery slope. Never charge more than you can afford to pay off by your next due date. Otherwise, your business credit scores might suffer and you could waste a lot of money in interest.