Most products on this page are from partners who may compensate us. This may influence which products we write about and where and how they appear on the page. However, opinions expressed here are the author's alone, not those of any bank, credit card issuer, airline or hotel chain. This page may include information about American Express products currently unavailable on Slickdeals. American Express is not a partner of Slickdeals.
Like many businesses, hotels are always looking to increase their revenue without appearing to increase their prices. That's the only way to interpret the trend of spacious suburban hotels and remote resort properties imposing parking charges.
Parking fees are especially egregious in places where parking is plentiful and there aren't many public transportation options.
But I rarely pay for parking when I travel, as I've developed several strategies that are highly effective at avoiding this unnecessary fee. Specifically, my Hyatt Globalist Status — it's the top tier of the World of Hyatt loyalty program, and the perks are hard to beat.
Hyatt Globalist: Free Parking and Other Perks
The primary way I avoid parking charges is by earning top-tier Globalist status with the World of Hyatt program. Perks of the program include:
Free hotel parking
Complimentary breakfast
Club lounge access (where available)
Suite upgrades awards
Room upgrades (when available)
Waived resort fees (where applicable)
Share your benefits with friends and family
Early check-in
Late checkout
Premium internet access
Free bottled waters
Member rates
Accelerated rewards points earnings on Hyatt bookings
Become a Hyatt Globalist
Once you have Globalist status, you'll receive free parking at nearly all Hyatt hotels and resorts. So long as the hotel has the ability to charge parking to your room, it should qualify. That said, there are a few urban hotels that don't have their own parking lots and can't offer you this benefit. So it's best to verify this benefit before booking a hotel where you'll need to park.
Normally, Globalist status currently requires 60 night-stay credits in a calendar year. But that doesn't mean you need to stay 30 or 60 nights away from home each year – let alone pay for all those nights – as there are other ways to earn night-stay credits.
First, you earn a night-stay credit for every night you stay in a Hyatt property, even if you redeemed points or used free night certificates for your stay. And since I typically pay for hotel stays with my points, I'm able to earn this status with little out-of-pocket expense.
I receive plenty of Hyatt points by transferring Chase Ultimate Rewards points from cards like the Chase Sapphire Preferred® and the Ink Business Preferred®. I also earn points and night-stay credits from having the World of Hyatt credit card from Chase.
Chase Sapphire Preferred®
Our Rating 5/5 Read the review
APR20.24% – 27.24% (Variable)
Annual Fee$95
60,000 60,000Chase Ultimate Rewards Points

Earn 60,000 points after you spend $4,000 within three months of account opening. Dollar Equivalent: $1,320 (60,000 Chase Ultimate Rewards Points * .022 base)
The Chase Sapphire Preferred is at the top of our list of starter travel rewards cards. Between a digestible $95 annual fee, valuable Chase Ultimate Rewards points that can be transferred to over a dozen hotel and airline partners, and easy ways to earn points, this is a top card for rewards beginners and experts alike.
Overview
The Chase Sapphire Preferred actually works like having over a dozen different rewards credit cards. That's because this credit card allows you to transfer your rewards points into miles with 11 airlines and points with three hotel programs.
Although the Chase Sapphire Preferred might not be ideal for the most frequent travelers and highest spenders, it's part of a family of Chase cards that has a built-in upgrade path. So when it comes time to take your travel rewards game to the next level, you won't have to start from scratch with an entirely different credit card and rewards program.
The card has a $95 annual fee, but the $50 annual Ultimate Rewards Hotel Credit effectively reduces that fee to $45. Plus, the credit card allows you to continue earning points through bonus categories and a 10% anniversary points boost. But when it comes time to redeem your rewards for travel, this card really shines. You can take advantage of some really strong transfer partners such as United, Southwest, Singapore Airlines, Virgin Atlantic and Hyatt. Similarly, you can just book any reservation you want through the Chase Ultimate Rewards travel portal.
Pros
Points are easily transferable to airlines and hotel partners
Accelerated earnings on dining, travel & household purchases
Excellent travel and purchase protections
No foreign transaction fees
Cons
Not ideal for the highest spenders
$95 annual fee
Ink Business Preferred® Credit Card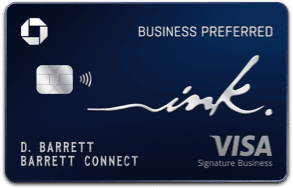 Apply Now
Secure application on issuer's website
Our Rating 4.5/5 Read the review
APR20.24% – 25.24% (Variable)
Annual Fee$95
100,000 100,000Chase Ultimate Rewards Points

Earn 100,000 bonus points after you spend $15,000 in the first three months Dollar Equivalent: $2,200 (100,000 Chase Ultimate Rewards Points * .022 base)
If you're a business owner who travels a lot for work or pleasure, this card is an ideal choice. Between a robust 3x points on five categories and the ability to use transferable Ultimate Rewards points, this card is a no-brainer despite the $95 annual fee.
Overview
This card offers a whopping 100,000 bonus points after you spend $15,000 in the first three months — with the card's 25% bonus on travel booked through Chase, that's worth $1,250. But you could potentially get more through one of the bank's transfer partners. The rewards you earn from the Ink Business Preferred Card can be transferred to 10 different airline partners including United, Southwest, Virgin Atlantic, Singapore and British Airways, as well as hotel partners Hyatt, Hilton and Marriott.
Unlike the other two Ink Business cards, you can use this card to transfer your rewards directly to airline miles and hotel points. Travelers may also like this card's cellphone protection policy that will cover up to $600 per claim.
Pros
3x points on 5 different categories (up to $150,000)
Robust travel, purchase and cellphone protections
Ability to earn transferable points to use on travel partners
No additional charge for extra cards for additional authorized users
Cons
$95 annual fee
Businesses that don't spend on the category bonuses won't benefit
The World of Hyatt Credit Card
Apply Now
Secure application on issuer's website
Our Rating 4.5/5 Read the review
APR20.24% – 27.24% (Variable)
Annual Fee$95
60,000 60,000World of Hyatt Points

Earn 30,000 Bonus Points after you spend $3,000 on purchases in your first 3 months from account opening. Plus, up to 30,000 More Bonus Points by earning 2 Bonus Points total per $1 spent in the first 6 months from account opening on purchases that normally earn 1 Bonus Point, on up to $15,000 spent Dollar Equivalent: $1,080 (60,000 World of Hyatt Points * 0.018 base)
World of Hyatt's signature credit card helps you rack up points for free stays worldwide, and the annual free night certificate can be worth hundreds of dollars in value. This is a highly rewarding hotel card embedded within a great loyalty program.
Overview
Among all of the top hotel rewards programs, World of Hyatt offers the most valuable rewards, and the World of Hyatt credit card puts you on the fast track to enjoying some of the program's preferred benefits.
Pros
Hyatt has one of the most rewarding hotel loyalty programs around
Free night certificate at any Hyatt Category 1-4 property, awarded every year on your cardmember anniversary
Automatic Discoverist status, with an expedited path to higher tiers in the World of Hyatt loyalty program
Cons
$95 annual fee
No high-end perks
How Much Does the Hyatt Globalist Save in Overnight Parking Fees
In the vast majority of Hyatt hotels that I've stayed in, I've had parking charges waived that ranged from $10 a night to as much as $50. With this perk, there's no reason you couldn't rent a car when you stay at a Hyatt property in major cities like New York or London.
London: up to $94 per night
New York City: up to $143 per night
Chicago: up to $96 per night
Las Vegas and the Las Vegas Strip: up to $120 per night
Amsterdam: up to $79 per night
Los Angeles: up to $60 per night
Munich: up to $33 per night
San Francisco: up to $60 per night
Paris: up to $52 per night
Sydney: up to $120 per night
Toronto: up to $60 per night
*All parking fee averages are estimated for a 12-hour period using averages from ParkMe parking app. Additionally, estimates are for prime locations. You may find cheaper parking using discounts found on the Slickdeals app.
Even when you aren't renting a car, you can still use this benefit for friends or family who drive to your hotel to visit you, as the car does not have to be yours. Just tell the hotel you'll be parking a car, then meet your guests outside and give them an extra room key for their visit. I used this parking benefit recently in a city where I was visiting friends who drove to the hotel, but I didn't actually have a car.
Other Strategies for Parking Free at Hotels
Many hotels offer packages that include free parking, but usually at a slight premium to the standard rate. This difference in price could be much less than paying the standard rate for parking.
After that, the next best trick is to negotiate parking into your room price. To do that, simply call the hotel directly and ask to speak to a manager (don't call its corporate reservations line). Tell them you are considering making a new reservation, but are concerned about the parking charges.
Inform them that you'll be happy to make the reservation right now if they're willing include parking in the standard price. And if you have elite status with the hotel, feel free to mention that, as it could have an influence.
Another strategy is to simply find free parking in the neighborhood. A little research could reveal that there's free street parking nearby. In Denver where I live, as with many other large cities, there's no charge for street parking from Saturday night until Monday morning.
While not free, there are also apps like Parking Panda that can help you find prepaid parking at greatly reduced prices. In fact, I once used Parking Panda to stay in my hotel's parking lot for a fraction of what it normally charges guests.
Thinking Outside the Box
Some hotels have rental car services in the hotel. If you can take a ride share or public transportation to the hotel, then you can rent the car in the hotel on days that you need it. In fact you might even be able to rent a new car each morning, return it in the evening and not have to pay any parking charges.
The most important thing you can do to avoid parking charges is to simply ask to have these charges waived. A sympathetic front desk clerk is usually empowered to waive parking charges in order to assure guest satisfaction.
If a staff member asks you about your stay, say it's going great, but you do have one problem that you wish the hotel could solve. Mention the parking charge, and offer a good reason for it to be removed. For example, you could say that parking is plentiful, or that there's no public transportation options or that the price is unreasonable.
Conversely, you could bring up any service problems that you've experienced, and ask if they might be willing to waive the parking charge as compensation.
Frequently Asked Questions
You may get free valet parking with Globalist status when your Hyatt only offers valet parking. However, if the hotel offers both valet and standard parking, then you'll usually only get standard parking for free. Whether you decide to tip your valet is up to you.

The cost of parking at a Hyatt hotel will vary depending on the location, but you can typically plan on paying between $10-$80 per night without Globalist status (which entitles you to free parking during your award stays). For example, self parking at the Park Hyatt New York is $80 per day. While parking at Hyatt Place Salt Lake City is $10 per day.

It can make financial sense to pay a higher room price for free parking when the cost of an upgrade is less than the price you'll pay for parking. Otherwise, unless you value having a "better" room with more amenities, you should not pay a higher rate just for free parking.

You may get free parking simply by asking for it. Keep in mind that the hotel is not obligated to honor your request, but it doesn't hurt to ask. Furthermore, you may increase the odds of free parking when you have some level of status with a particular hotel chain. For example, asking for free parking at a Hilton may yield positive results when you are a Hilton Honors member.
Bottom Line
When you're getting an award night stay for free, or even when you've just got a great paid rate, having to pay for parking can ruin the entire equation. But once you achieve Hyatt Globalist status or successfully utilize another strategy to minimize or eliminate parking fees, you can enjoy your hotel stay without paying too much for your car to stay there as well.