Most products on this page are from partners who may compensate us. This may influence which products we write about and where and how they appear on the page. However, opinions expressed here are the author's alone, not those of any bank, credit card issuer, airline or hotel chain. This page may include information about American Express products currently unavailable on Slickdeals. American Express is not a partner of Slickdeals.
Spend enough years as a travel rewards geek, and you can almost book free flights and hotel stays in your sleep. But especially in 2021, rental cars can be one of the largest expenses that you'll have to worry about on your next vacation. That's because during the COVID-19 pandemic, the rental car industry spent 2020 selling off their cars while attempting to avoid bankruptcy. And prices are surging as rental-car services haven't been able to replace their cars quickly enough to meet the growing post-pandemic demand.
Thankfully, there are a few tricks that I've learned for redeeming my credit rewards for car rentals.
Use Credit Cards That Offer Travel Statement Credits
The easiest way to use points and miles to pay for your rental car is to use a credit card that offers statement credits towards travel purchases. The leading card in this field is the Capital One Venture Rewards Credit Card. This card offers double miles on all purchases, and its miles are worth one cent each as statement credits towards a variety of travel purchases, including rental cars. What's more, you can earn 5X miles on all rental car and hotel purchases that you make with the card through Capital One Travel.
Other benefits of the Capital One Venture Rewards Credit Card include a $100 credit towards the application fee for Global Entry or TSA PreCheck, and the ability to transfer rewards to airline miles or hotel points. There's a $95 annual fee for this card.
Similarly, the Discover it® Miles card offers 1.5 Miles per dollar spent on all purchases and will match the miles you earn during your account's first year. Miles can be redeemed for travel statement credits, cash back or other options. There's no annual fee for this credit card either.
Consider Credit Cards That Let You Directly Book Rental Cars With Your Rewards
Another way to pay for your rental car with credit card rewards is to use a card that allows you to redeem your points directly for travel.
Chase Sapphire Preferred®
Our Rating 5/5 Read the review
APR20.24% – 27.24% (Variable)
Annual Fee$95
60,000 60,000Chase Ultimate Rewards Points

Earn 60,000 points after you spend $4,000 within three months of account opening. Dollar Equivalent: $1,320 (60,000 Chase Ultimate Rewards Points * .022 base)
The Chase Sapphire Preferred is at the top of our list of starter travel rewards cards. Between a digestible $95 annual fee, valuable Chase Ultimate Rewards points that can be transferred to over a dozen hotel and airline partners, and easy ways to earn points, this is a top card for rewards beginners and experts alike.
Overview
The Chase Sapphire Preferred actually works like having over a dozen different rewards credit cards. That's because this credit card allows you to transfer your rewards points into miles with 11 airlines and points with three hotel programs.
Although the Chase Sapphire Preferred might not be ideal for the most frequent travelers and highest spenders, it's part of a family of Chase cards that has a built-in upgrade path. So when it comes time to take your travel rewards game to the next level, you won't have to start from scratch with an entirely different credit card and rewards program.
The card has a $95 annual fee, but the $50 annual Ultimate Rewards Hotel Credit effectively reduces that fee to $45. Plus, the credit card allows you to continue earning points through bonus categories and a 10% anniversary points boost. But when it comes time to redeem your rewards for travel, this card really shines. You can take advantage of some really strong transfer partners such as United, Southwest, Singapore Airlines, Virgin Atlantic and Hyatt. Similarly, you can just book any reservation you want through the Chase Ultimate Rewards travel portal.
Pros
Points are easily transferable to airlines and hotel partners
Accelerated earnings on dining, travel & household purchases
Excellent travel and purchase protections
No foreign transaction fees
Cons
Not ideal for the highest spenders
$95 annual fee
The Chase Sapphire Preferred® Card lets you book rental cars through the Chase Ultimate Rewards Travel Center, which is powered by Expedia. The rates are fairly low, and you get 1.25 cents in value per point redeemed.
Ink Business Preferred® Credit Card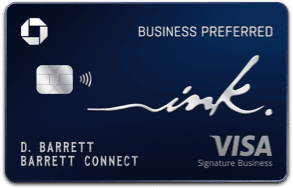 Apply Now
Secure application on issuer's website
Our Rating 4.5/5 Read the review
APR20.24% – 25.24% (Variable)
Annual Fee$95
100,000 100,000Chase Ultimate Rewards Points

Earn 100,000 bonus points after you spend $15,000 in the first three months Dollar Equivalent: $2,200 (100,000 Chase Ultimate Rewards Points * .022 base)
If you're a business owner who travels a lot for work or pleasure, this card is an ideal choice. Between a robust 3x points on five categories and the ability to use transferable Ultimate Rewards points, this card is a no-brainer despite the $95 annual fee.
Overview
This card offers a whopping 100,000 bonus points after you spend $15,000 in the first three months — with the card's 25% bonus on travel booked through Chase, that's worth $1,250. But you could potentially get more through one of the bank's transfer partners. The rewards you earn from the Ink Business Preferred Card can be transferred to 10 different airline partners including United, Southwest, Virgin Atlantic, Singapore and British Airways, as well as hotel partners Hyatt, Hilton and Marriott.
Unlike the other two Ink Business cards, you can use this card to transfer your rewards directly to airline miles and hotel points. Travelers may also like this card's cellphone protection policy that will cover up to $600 per claim.
Pros
3x points on 5 different categories (up to $150,000)
Robust travel, purchase and cellphone protections
Ability to earn transferable points to use on travel partners
No additional charge for extra cards for additional authorized users
Cons
$95 annual fee
Businesses that don't spend on the category bonuses won't benefit
Chase Ink Business Preferred® cardholders can do the same. And if you have the Chase Sapphire Reserve®, then you'll receive 1.5 cents in value per point redeemed towards rental cars and other travel reservations. So if your rental car, or other travel reservation costs $150, then you'd only need to redeem 10,000 Chase Ultimate Rewards points from your Sapphire Reserve account, or 12,000 points from your Sapphire Preferred or Ink Business Unlimited® Credit Card.
Save Money on Rental Cars By Using Loyalty Programs
You always want to join the rental car company's loyalty program and earn rewards that you can redeem later to help pay for a rental. Of all the rental car loyalty programs, my favorites are National and Hertz.
National is great because it offers points based on the number of times you rent a car. So this is ideal for those who rent often for shorter periods of time, rather than those who occasionally rent vehicles for many days at a time. It also makes sense for those who just rent a midsize or other inexpensive cars.
Another value National offers is its One Two Free promotion that it has done every fall for many years. This promotion gives you a free rental day for every two cars you rent.
Similarly, Hertz has a decent loyalty program that rewards you based on the amount you spend. So it's often a better program than National for those who rent expensive vehicles and for those who rent for longer durations.
Related Article
How to Save Money on Rental Cars: A Comprehensive Guide for 2022
Additionally, there are two other ways that you can earn Hertz points. The first is by taking eRewards surveys, which is time consuming, but earns rewards that can be redeemed for Hertz points. You can redeem eRewards points for other things, but the Hertz option appears to be the most valuable.
Also, you can occasionally find Hertz points sold during the US Travel Association's Daily Getaways online promotion. And while this can be an excellent value, these points sell fast, and this event wasn't even held in 2020. However, there's been some indication that the Daily Getaways promotion might return in 2021, so keep your eyes out for it. Also note that Hertz significantly devalued their program within the last two years, but I feel it's still a program worth using.
Bottom Line
Some people have called 2021 the year of the rental-car apocalypse and for good reason. With many rentals selling for two to three times what we used to pay, now is the best time to look for ways to redeem your points and miles instead of spending your cash. By examining all of these ways to use credit card rewards and other points to pay for your car rentals, you might be able to get the wheels you need without feeling like you're being taken for a ride.