Most products on this page are from partners who may compensate us. This may influence which products we write about and where and how they appear on the page. However, opinions expressed here are the author's alone, not those of any bank, credit card issuer, airline or hotel chain. This page may include information about American Express products currently unavailable on Slickdeals. American Express is not a partner of Slickdeals.
Through September 30 (or while the offer lasts), select Chase Freedom and Chase Sapphire® cardholders can earn 10% cash back on all Walmart.com purchases, up to $12 in value.
Other Chase cards may offer 5% cash back, with different maximum dollar redemptions. Even then, it's rare to see a rewards card offer more than 3% cash back on general purchases, making both these offers feel noteworthy.
While the offer claims to be for all Walmart.com purchases, there are, of course, some exceptions. As it is a digital-only deal, only purchases from Walmart.com or Walmart's mobile app qualify. Additionally, gas and pharmacy purchases are excluded from this deal. And finally, the 10% cash back offer does not apply to any purchases made using third-party services, delivery services, or third-party payment accounts.
With back-to-school season in full swing, this offer could be a great benefit for families who need supplies like stationary, folders or new athletic equipment. And while the $12 maximum isn't huge, with a 10% back rate you could earn the full bonus while only spending $120, which fits nicely into many families' typical shopping budgets.
How to Take Advantage of This Offer
Before you start planning your Walmart shopping list, make sure you log into your Chase account and see if you qualify for the offer, which is only valid for select customers and cards.
Some cardholders may only receive 5% cash back instead of 10%. At this time, it's unclear how cardholders are selected for the benefit.
If you are eligible, you simply activate the offer and then make a qualifying purchase through Walmart.com or the Walmart app using your card. The deal lasts through September 30, 2023 or while the offer lasts. Finally, payment for your purchase must be made on or before the offer expiration date.
Recommended Chase Cards
As stated above, it's unclear how Chase selects cardholders for this promotion. Even if you apply and are approved for a card, you may not be eligible for this 10% back deal. However, the following Chase Sapphire and Freedom cards are some of the best credit cards on the market today, so we feel confident recommending them based on their normal value alone.
Chase Freedom Unlimited®
Apply Now
Secure application on issuer's website
Our Rating 4.5/5 How our ratings work Read the review
APR20.49% - 29.24% (Variable)
Annual Fee$0
1.5% 1.5%Extra Cash Back

Earn 1.5% bonus cash back (up to $20,000 in purchases) during your first year. Worth up to $300 in cash back.
We like that the card offers a high flat rewards rate but also provides accelerated rewards on some common everyday spending categories. You'll also get access to the Chase Ultimate Rewards Travel portal, which allows you to use your cash-back earnings for travel rewards, gift cards and more. If you make this your primary card for most purchases you can quickly rack up a lot of rewards.
Overview
The Chase Freedom Unlimited card is unique for a couple of reasons. First, it comes with purchase protection and extended warranty protection you don't see with some other cash-back cards. Second, you earn cash back in the form of points (Chase Ultimate Rewards) and when paired with another annual-fee earning Chase product, you can get even more value if you love to travel by transferring to partners.
That's because while the Freedom cards are marketed as cash-back credit cards, they actually offer points. You can use those points to book travel through Chase at a rate of 1 cent per point. But if you have the Chase Sapphire Preferred® or Chase Sapphire Reserve®, you'll get 25% and 50% more value on those travel redemptions, respectively. (Plus, the ability to transfer your points, too.)
Pros
No category bonuses to remember; earn at least 1.5% back on everything
No annual fee
Generous travel and purchase protection benefits
Cons
Can't transfer Chase points unless paired with another annual-fee Chase product
Chase Sapphire Preferred®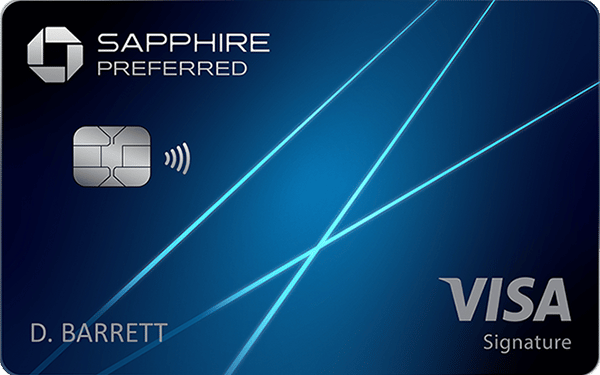 Apply Now
Secure application on issuer's website
Our Rating 5/5 How our ratings work Read the review
APR21.49% - 28.49% (Variable)
Annual Fee$95
60,000 60,000Chase Ultimate Rewards Points

Earn 60,000 bonus points after you spend $4,000 on purchases in the first 3 months from account opening. Dollar Equivalent: $1,380 (60,000 Chase Ultimate Rewards Points * 0.023 base)
The Chase Sapphire Preferred Card is one of the gold standards for earning travel rewards. It has a generous sign-up bonus and you can earn points on travel and dining expenses. The card does have an annual fee, but you can continue earning points through bonus categories and an anniversary points boost.
Overview
The Chase Sapphire Preferred is pretty flexible as it lets you transfer rewards points into miles or points several airlines and hotel programs. You can take advantage of strong transfer partners such as United, Southwest, Singapore Airlines, Virgin Atlantic and Hyatt. Similarly, you can book any reservation you want through the Chase Ultimate Rewards travel portal. Although the card might not be ideal for the most frequent travelers, it has a built-in upgrade path, so when it's time to level up your travel rewards game, you won't have to start from scratch.
Pros
Points are easily transferable to airlines and hotel partners
Accelerated earnings on dining, travel & household purchases
Excellent travel and purchase protections
No foreign transaction fees
Cons
Not ideal for the highest spenders
$95 annual fee
Slickdeals Community Tips
Now, while this offer only applies to Walmart.com purchases, there may be ways to get creative if that's not the best option for you. For instance, Slickdeals user u/Totspurs says, "In the past these have worked on [Walmart] gift cards and Sam's does take Walmart gc as payment)". So if you prefer to do your shopping at Sam's Club, then that might be a viable option.
It's also worth noting that if you have multiple eligible cards, then you might be able to get more bang for your buck. Slickdeals user u/impasse claims they received different 10%/5% offers for both of their eligible Chase cards. So if you're willing to split up your purchase across multiple cards, you could potentially earn even more cash back.
Thanks to Slickdeals user u/ShrewdString611 for finding this great deal for select Chase cardholders.