Most products on this page are from partners who may compensate us. This may influence which products we write about and where and how they appear on the page. However, opinions expressed here are the author's alone, not those of any bank, credit card issuer, airline or hotel chain. This page may include information about American Express products currently unavailable on Slickdeals. American Express is not a partner of Slickdeals.
Black Friday is almost here, which means it's an excellent time to consider signing up for Amazon's credit card. This way, you can take your savings even further during the annual sales event as you jump into the holiday shopping season.
For a limited time, if you open the Prime Visa Credit Card, you can instantly earn a $200 Amazon gift card. The best part? That gift card will hit your Amazon account immediately, and you can use it right away for Prime purchases. There's no waiting for it to arrive in the mail or even your inbox, so this card could save you a bundle.
The Slickdeals community is all over this popular deal, which seem to come around every November.
Prime Visa Credit Card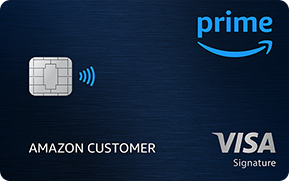 Apply Now
Our Rating 3.5/5 How our ratings work Read the review
APR19.49% - 27.49% (Variable)
Annual Fee$0
Sign-Up Bonus $200Gift Card

Get a $200 Amazon Gift Card instantly upon approval exclusively for Prime members.
This card is a good fit for consumers who do a lot of shopping at Amazon and Whole Foods because they can earn an unlimited 5% cash back on purchases there. Cardholders also earn some cash back on other purchases, with decent rates for restaurants and gas stations. If you already have or plan to get a Prime membership, using this card could quickly earn you sizable cash back.
Overview
With high rewards rates, this card could make up for the required Prime membership fee if you shop a lot at Amazon and Whole Foods. Non-Prime members can qualify for the Prime Visa Credit Card, which is pretty similar but with lower rewards rates.
Pros
No annual fee
High rewards rates
Sign-up bonus offer
Can redeem rewards as soon as the next day
No foreign transaction fees
Cons
Must have a Prime membership for highest rewards rates
No intro APR offer
If you have a Prime membership (as the majority of U.S. households do) the Prime Visa Credit Card can help you unlock more rewards and savings.
Here's a look at how to cash in on this offer.
How to Earn the $200 Gift Card
You can earn a $200 Amazon gift card when you're approved for a Prime Visa Credit Card. While this isn't the most valuable promotion we've seen for this card, it's pretty amazing to see a bonus offer you can earn just for being approved. To earn a similar bonus with a competing card, you'd typically need to spend several hundred dollars.
In the past, this card offered new cardholders the chance to earn up to $275 in bonuses, but doing so required a lot more legwork. With that promotion, you received a $150 gift card upon approval, then had the opportunity to earn up to $125 in cash back thanks to an accelerated rewards rate that was applied to all purchases for three months.
While it's a little disappointing that this $200 promotion does not include any sort of elevated rewards rate, customers may value the one-and-done simplicity of this new offer. Plus, the card still earns an unlimited 5% back on Amazon purchases, so you have a great opportunity to stack some cash back rewards. And, as mentioned, you can use your gift card right away.
Bottom Line
If you're a regular Amazon shopper, you'd do well to hold one of Amazon's credit cards. Few other cards will reward you with an unlimited 5% back on Amazon purchases like the Prime Visa Credit Card does, and it's rare to see a credit card offer a bonus immediately upon approval.
With Black Friday being the unofficial start to the holiday shopping season, you can increase the value of pretty much any deal you find during the event by purchasing it with an Amazon credit card.
Related Article
Amazon's Prime Visa Credit Card Review: Generous Rewards for Amazon Power Shoppers