Most products on this page are from partners who may compensate us. This may influence which products we write about and where and how they appear on the page. However, opinions expressed here are the author's alone, not those of any bank, credit card issuer, airline or hotel chain. This page may include information about American Express products currently unavailable on Slickdeals. American Express is not a partner of Slickdeals.
The Citi Premier® Card, from our partner Citi, is a great starter credit card with lucrative earning potential and a valuable travel perk. As a mid-tier card, its annual fee is reasonable at $95 per year and the elevated welcome bonus makes it an enticing choice. It's a sensible rewards card in a sea of flashy options. If you've got your eye on the Citi Premier, you may be wondering what the credit score requirement is for approval. 
While good credit always makes approvals easier, we'll dive into exactly what that means and what score range will increase your approval odds.
Citi Premier® Card
Our Rating 4.5/5 How our ratings work Read the review
APR21.24% - 29.24% (Variable)
Annual Fee$95
Sign Up Bonus 60,000Citi ThankYou Points

Earn 60,000 bonus ThankYou Points after making $4,000 worth of purchases during the first three months of account opening. Dollar Equivalent: $1,080 (60,000 Citi ThankYou Points * 0.018 base)
The Citi Premier® Card, from our partner Citi, is worth considering if you're looking for accelerated travel rewards but don't want to pay a huge annual fee. It's easy to quickly rack up lots of points on this card. While you can redeem ThankYou points for gift cards, you'll get more value when you redeem points for flights and hotels, and potentially even better value when you transfer points to travel partners.
Overview
This credit card offers its members a range of incentives, such as bonus points, gift cards and 1:1 point transfers with airline partners. One of the more unique features of the Citi Premier® Card from our partner Citi is that it offers 3x ThankPoints for every dollar spent at supermarkets, gas stations, restaurants and travel purchases. Plus, new cardholders can earn 60,000 ThankYou Points after spending $4,000 during the first three months of account opening.
Perks
Earn 3x ThankYou Points per dollar spent on travel, grocery stores, restaurants and gas stations
Annual $100 hotel savings benefit. Just book a hotel stay of $500 or more through thankyou.com or 1-800-THANKYOU to earn the discount.
No foreign transaction fees
Easily transfer your points to Citi's airline partners
Pros
High reward rate on common categories of consumer spending
Points are easily transferable to airlines and hotel partners
No foreign transaction fees
Points never expire
Cons
$95 annual fee
No standout rewards category
Citi Premier Overview
The Citi Premier card currently offers 60,000 bonus points after you spend $4,000 within the first three months of account opening. The card is great if you want bonus rewards in everyday spending categories for a reasonable annual fee:
3X miles on air travel and hotels
3X miles at gas stations
3X miles at restaurants
3X miles at supermarkets
1 point per dollar on all other purchases
These are solid bonus categories for a mid-tier card. In fact, the only card with a similar earning structure is the American Express® Gold Card, which carries a $250 annual fee. 
Citi's ThankYou® program lets you redeem points with 16 airline and hotel partners, including Choice Hotels, JetBlue, and Wyndham. Don't let the lack of domestic airline partners fool you – you can do a lot with 60,000 ThankYou points. One great use is for round-trip domestic United flights using Turkish Airlines miles. The cost? A staggering 15,000 miles. That's less than what most domestic airlines charge for a one-way ticket.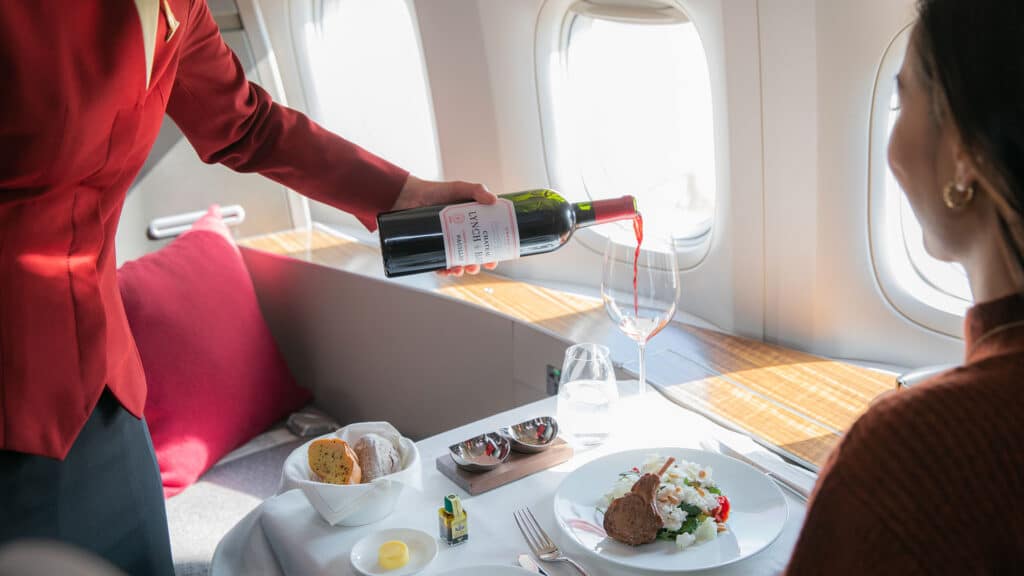 Related Article
Transferring & Redeeming Citi ThankYou Points: Different Ways to Use Your Rewards
The Citi Premier's $100 annual hotel savings benefit is also unusual for a mid-tier card and completely offsets the $95 annual fee. The benefit is valid on bookings of $500 or more. Plus, the card charges no foreign transaction fees. Despite the travel benefits, this card is better suited for everyday use than travel spending. That's because Citi eliminated all travel protections, so you miss out on vital coverage like trip cancellation/interruption insurance and auto rental damage waiver.
What Credit Score Do You Need For Citi Premier?
Citi mostly pulls from Experian, though this might vary depending on your state. Citi requires a good credit score for a Premier card, which is defined as a FICO score of 670-739 and a Vantage Score of 661-780. Reports indicate that you're more likely to get approved for a Citi Premier card with a minimum credit score of 700.
Per Citi, the bank considers "many factors" when determining creditworthiness. While there's no guarantee that you will be approved for a card if your score falls in this range, it is a good indicator. If your credit score falls well under this range, then you might want to work on boosting your score before applying for a Citi Premier card.
If you want a sense of what type of Citi card you qualify for, head over to the pre-qualification page. After entering some personal information, Citi will match you with offers that you prequalify for. This tool is an excellent way to determine whether you might qualify for a Citi Premier, without impacting your credit score.
Rules That Can Impact Approval
Your credit score isn't the only factor impacting your application. Citi will take your credit history into account, as well as income and existing credit lines. Additionally, Citi has several application rules you should be aware of when applying for a Citi Premier card.
For example, you must wait at least 24 months between canceling and reapplying for a Citi Premier Card. If you've opened or closed another Citi card in the last 24 months, you might not get approved for a Citi Premier either. The Premier card's application page states explicitly that if you've opened or closed one of the following cards in the last 24 months, you won't qualify for a Citi Premier:
Citi ThankYou® Preferred
Citi Premier
Citi Prestige®
Be sure to consult your credit report before applying for a Citi card so you don't waste a credit inquiry on a card you don't qualify for.
What To Do If You're Rejected for a Citi Premier Card
You don't have to take no for an answer if you get that dreaded rejection message. Depending on the reason for rejection, you have 30 days to appeal without incurring another credit inquiry. Simply call Citi's reconsideration line (the number is listed in the decision letter) and make your case. Here are some tips on handling the most common reasons for rejection:
You Don't Qualify Based On Credit History
If your rejection letter cites your credit history as the reason for your rejection, you have a few options. If the problem is negative hits on your credit report, you can dispute them and clear your record. But if your rejection is because you have a limited credit history, the solution will require a long-term commitment to building your credit history. That takes time.
Start by adding a secured credit card to your wallet if you can't prequalify for a Citi card. Once you have this card, you'll want to keep your credit utilization rate low and pay it off on time every month. After about 1-2 years, you'll be in a better position to reapply and get approved for a Citi Premier.
You Have Too Many Recent Inquiries
Citi has been known to reject credit card applications for too many recent inquiries. There's no hard-and-fast number, but you may see this reason cited in your decision letter. You can try to get Citi to reconsider your application by pointing to your good credit history and providing an explanation for the recent inquiries.
Citi wants to protect itself against "gaming," so if you can make a good case for why you needed multiple credit cards in a short period, they might approve you for a Citi Premier card.
You Don't Qualify for Additional Credit
Suppose you're an existing Citi cardholder who is rejected because you've reached the maximum allowable credit. In that case, there's a simple solution: Ask Citi to move some of your credit line from an existing card to the Citi Premier.
This may not work if your existing card has a low limit. But it's still worthwhile to call Citi and ask if they can accommodate your request. It's not a heavy lift and if you have enough of a credit limit, it might just work. If you decide to cancel your Citi Premier card at a certain point, be sure to transfer the credit line back to the original card. This will ensure that your credit score won't be negatively affected because your available credit has decreased.
Alternatives
If you can't get approved for a Citi Premier card, you can ask them to consider you for a lower-tier Citi card like the Citi Rewards+®, from our partner Citi. The card is easier to get approved for and earns Citi ThankYou points.
Citi Rewards+® Card
Apply Now
Secure application on issuer's website
Rates & Fees
Our Rating 4.0/5 How our ratings work Read the review
APR18.74% - 28.74% (Variable)
Annual Fee$0
Sign Up Bonus 20,000Citi ThankYou Points

Earn 20,000 bonus points after you spend $1,500 in purchases with your card within 3 months of account opening; redeemable for $200 in gift cards at thankyou.com Dollar Equivalent: $360 (20,000 Citi ThankYou Points * 0.018 base)
The Citi Rewards+ Card, from our partner Citi, rounds up all purchases to the nearest 10 ThankYou Points. For example, if you bought a cup of coffee for $2, you'd earn 10 ThankYou Points. Similarly, if a burger and fries cost $15, you'd earn 20 ThankYou Points. So if you make a lot of small purchases, like a morning cup of coffee, this could be the card for you.
Overview
The Citi Rewards+ Card,  from our partner Citi, may be ideal for people who want to earn cash-back rewards for everyday spending, but do not want to pay an annual fee. It's also a strong option for people who make frequent small purchases, since this credit card rounds each purchase to the nearest 10 points — even buying a $0.75 candy bar will earn you 10 points.
Pros
Great for small purchases: All transactions round up to the nearest 10 points
Get 10% of your redeemed points back each year (for the first 100,000 points redeemed annually)
No annual fee
Cons
3% foreign transaction fee, don't use this card abroad if you don't have to
Is It Worth It?
The Citi Premier card is worth it if you want to earn valuable (and flexible) points. Even if you don't transfer your points to an airline or hotel program, you can redeem them at one cent each toward travel booked through Citi. If you qualify for a Citi Premier based on credit score, you should go for it – it's an excellent card that checks off many boxes.
Remember that your credit score isn't the only factor determining approval for a Citi Premier card. Citi has credit card application rules that may prevent you from being approved if you've had the card in the past. Just be aware of these rules and hopefully, you'll increase your chances of getting approved.
And if you don't, you can always try your luck at a reconsideration call. May the odds be ever in your favor.