Most products on this page are from partners who may compensate us. This may influence which products we write about and where and how they appear on the page. However, opinions expressed here are the author's alone, not those of any bank, credit card issuer, airline or hotel chain. This page may include information about American Express products currently unavailable on Slickdeals. American Express is not a partner of Slickdeals.
Don't let the thought of paying a high annual fee scare you away from credit cards. Not all credit cards come saddled with an annual fee. But just how do no annual fee credit cards work?
No annual fee credit cards are a good choice for individuals new to the credit card space because these cards can save you money automatically whenever and wherever you spend money. We've gathered everything you need to know about choosing a no annual fee credit card so that you can make the best decision for your finances.
What Are Annual Fees?
An annual fee is a set charge that occurs yearly. For credit cards with annual fees, the charge is applied to your account as soon as you are approved. You will see that same charge on your card anniversary. If you do not pay the annual fee in the billing statement you receive it, you will start to pay interest on it.
Since your annual fee is applied to your charge account automatically, that will affect your credit card limit. For example, if you applied for a card with a $5,000 credit limit and the annual fee is $95, your new credit limit will be $4,905 until you pay your bill. Keep this in mind if you are hoping to use your new card for a big purchase right after signup.
Annual fees do not count for sign-up bonuses, and they do not earn points or cash back.
Annual fees vary by card, with most fees starting at $95. Some cards, like the Chase Sapphire Reserve®, charge a larger annual fee, but the card also comes with more rewards like an annual travel credit.
Chase Sapphire Preferred®
Our Rating 5/5 How our ratings work Read the review
APR21.49% - 28.49% (Variable)
Annual Fee$95
60,000 60,000Chase Ultimate Rewards Points

Earn 60,000 bonus points after you spend $4,000 on purchases in the first 3 months from account opening. Dollar Equivalent: $1,380 (60,000 Chase Ultimate Rewards Points * 0.023 base)
The Chase Sapphire Preferred Card is one of the gold standards for earning travel rewards. It has a generous sign-up bonus and you can earn points on travel and dining expenses. The card does have an annual fee, but you can continue earning points through bonus categories and an anniversary points boost.
Overview
The Chase Sapphire Preferred is pretty flexible as it lets you transfer rewards points into miles or points several airlines and hotel programs. You can take advantage of strong transfer partners such as United, Southwest, Singapore Airlines, Virgin Atlantic and Hyatt. Similarly, you can book any reservation you want through the Chase Ultimate Rewards travel portal. Although the card might not be ideal for the most frequent travelers, it has a built-in upgrade path, so when it's time to level up your travel rewards game, you won't have to start from scratch.
Pros
Points are easily transferable to airlines and hotel partners
Accelerated earnings on dining, travel & household purchases
Excellent travel and purchase protections
No foreign transaction fees
Cons
Not ideal for the highest spenders
$95 annual fee
Benefits of No Annual Fee Credit Cards
In many cases, paying an annual fee is worth it if you use your card wisely and can maximize the card's benefits. But what is a no annual fee credit card worth? If you are new to using credit cards or are looking for a card to boost your credit, no annual fee cards have many benefits too. Here are the top benefits of no annual fee cards:
Rewards: No annual fee cards offer you more back on your spending than if you just use your debit card for purchases. If you switch your main spending to a rewards credit card rather than your debit card, you can earn several hundreds of dollars back each year without changing your budget.
Travel: Look for cards that offer travel perks, like $0 foreign transaction fees or travel protection. The IHG® Rewards Traveler Credit Card has a no-annual-fee card offer, along with accelerated point earning at grocery stores, restaurants and gas stations and no foreign transaction fees.
Cash Back: Some cards offer maximum cash back without an annual fee. The Chase Freedom Flex℠ Card has rotating bonus cash-back categories, plus flat-rate earnings on dining, takeout, delivery and spending at drugstores.
0% APR Introductory Rate: Looking to save on a large purchase? Several no annual fee cards also come with an introductory 0% APR.
Easier to Budget: If you are on a tight budget, a no annual fee card can give you credit card benefits without adding any burden to your existing budget.
Building Credit: Many of the top annual fee cards require excellent credit, meaning many applications will be rejected due to not having a well-established credit history. You can build up your credit score and history with a no annual fee card.
What Are the Best No Annual Fee Credit Cards?
Paying an annual fee can negate many of the credit card benefits you enjoy most. Whether you're trying to maximize cash back, save money with a no-interest offer, or simply enjoy the perks of a particular card product — credit cards without annual fees are a popular option. Luckily, some of the best no annual fee credit cards on the market today earn excellent rewards. Below are a few of our most popular no annual fee credit cards.
Visit our guide to the biggest no annual fee credit card bonuses to compare credit cards from issuers like American Express, Citi, Capital One and Chase.
Who Should Use Credit Cards With No Annual Fee?
An annual fee credit card isn't for everyone, but a card without an annual fee might be a better choice for the following:
New Credit Users: If you are just dipping your toe in the credit card game, start with a no annual fee card with a sweet sign-up bonus.
Occasional Credit Card Users: If you don't whip out plastic for every purchase, then a card with an annual fee might not be worth your time. Instead, keep a no annual fee card in your wallet in case of emergencies or for added protection on online and gas station purchases.
People Consolidating Debt: If you are trying to tackle your debt load in 2023, then you don't need an annual fee card to do so. Instead, look for a card that comes with a 0% intro APR for transfer balances. You will have to pay a fee for the initial balance transfer, but the extended 0% APR can help you pay off your debt without worrying about costly interest charges.
When Are Annual Fees Typically Charged?
You should see the charge for your annual fee on your first credit card statement. Some cards waive the annual fee of $95 for the first year. The annual fee for that card would then occur on your first anniversary of opening the card. Usually, you will see a one-time charge on the first day of your anniversary month.
For example, if you opened your new card on January 15th, 2022, you should expect a one-time charge for the annual fee the first week of January 2023. Many cards offer anniversary gifts each year, such as a travel credit. If your card does offer annual credits, they will be available at the same time as your annual fee is charged.
Why Do Some Cards Have Annual Fees?
Many cards offer annual fees so that they can offer more rewards to cardholders. In order to attract new cardholders with spectacular sign-up bonuses and perks, they need to offset the cost with annual fees.
Are Credit Cards With Annual Fees Worth It?
One of the top questions among credit card users is, "Are annual fees worth it?" When you are trying to save money and stick with a budget, we can see why paying money to use plastic seems like a waste. However, when used wisely, an annual fee card can save money and earn you more cash back than a no annual fee card can.
Let's go back to comparing the Chase Sapphire Preferred with the Chase Freedom Unlimited.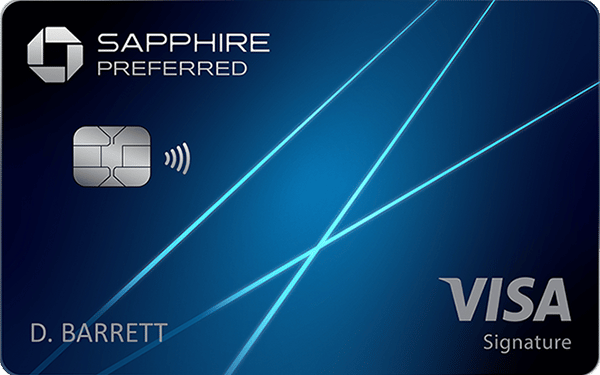 Chase Sapphire Preferred®
$95 Annual Fee
$1,320 Editor's
Bonus Estimate

Learn more about how we evaluate points and miles in our monthly evaluation guide.

60,000 60,000Chase Ultimate Rewards Points

Earn 60,000 bonus points after you spend $4,000 on purchases in the first 3 months from account opening. Dollar Equivalent: $1,380 (60,000 Chase Ultimate Rewards Points * 0.023 base)

21.49% - 28.49% (Variable) APR
Apply Now
Secure application on issuer's website
Chase Freedom Unlimited®
$0 Annual Fee
$300 Editor's
Bonus Estimate

Learn more about how we evaluate points and miles in our monthly evaluation guide.

1.5% 1.5%Extra Cash Back

Earn 1.5% bonus cash back (up to $20,000 in purchases) during your first year. Worth up to $300 in cash back.

20.49% - 29.24% (Variable) APR
Apply Now
Secure application on issuer's website
Both are highly-rated cards but pack on different benefits. For the sake of this example, let's say you spent $5,000 in travel and dining during your first year and $5,000 on all other purchases.
For the Chase Sapphire Preferred, you will have paid $95 for an annual fee, but you have the possibility of earning money towards travel after sign-up bonus and points back. Plus, you get other perks like no foreign transaction fees and limited travel insurance and protection.
More Credit Card Rewards
Credit cards have a reputation for causing people to go into debt. Yet the idea that opening credit cards is a bad financial choice isn't fair or accurate. You get to decide how you will use your credit cards, just as you get to decide how you'll use the money in your bank account.
Our card roundups help people maximize their credit card rewards earnings for planned, everyday spending. Here are a few to get you started:
If you feel confident that you can manage your credit cards responsibly (paying on time and in full every month), your accounts can be an asset instead of a burden. A well-managed credit card may help you to establish better credit scores over time and can help you take advantage of some amazing rewards.