Most products on this page are from partners who may compensate us. This may influence which products we write about and where and how they appear on the page. However, opinions expressed here are the author's alone, not those of any bank, credit card issuer, airline or hotel chain. This page may include information about American Express products currently unavailable on Slickdeals. American Express is not a partner of Slickdeals.
Marriott Bonvoy Bold® Credit Card
This product is currently not available via Slickdeals. All information about this product was collected by Slickdeals and has not been reviewed by the issuer.
Our Rating

4.0/5

How our ratings work

APR

20.74% - 27.74% (Variable)

Annual Fee

$0

60,000

60,000

Marriott Bonvoy Points

Limited Time Offer! Earn 60,000 Bonus Points after you spend $2,000 on purchases in the first 3 months from account opening. Dollar Equivalent: $240 (60,000 Marriott Bonvoy Points * 0.004 base)
The Marriott Bonvoy Bold® can help you ease into Marriott's robust hotel program, as you'll get the chance to earn points and elite status for special perks during your stays. This credit card offers a solid welcome bonus and can be a great place to start, especially if you're loyal to Marriott.
Dip Your Toes Into Marriott with This No-Annual-Fee Card
If you're interested in getting into the travel rewards game but don't want to commit to an annual fee, this card can be a great place to start, especially if you're loyal to Marriott.
But if you're a more experienced traveler, though, and want to rack up more Bonvoy points fast, it may be worth it to consider other Marriott credit cards or even cards from other brands. Since the credit card doesn't charge an annual fee, it's a nice addition to your wallet if you're fee-averse and don't travel enough to use a higher rewards hotel credit card. Plus, there is a low spending threshold to get the bonus.
Considering the Marriott Bonvoy Bold®? Here's everything you need to know about the card before you apply.
Pros
No annual fee to worry about
Great for beginners in the world of hotel loyalty
Robust travel, lost luggage, and purchase protections
No foreign transaction fees
Cons
Low-level Marriott status that comes with the card doesn't get you very much
Only makes sense for those that stay in Marriott hotels
Sign-Up Bonus
The Marriott Bonvoy Bold card offers 60,000 bonus points after you spend $2,000 in the first three months from account opening.
Standard stays with Marriott start at 7,500 points per night, but during off-peak times, you could snag an inexpensive property at 5,000 per night, potentially giving you 8-12 free nights at entry-level Marriott Bonvoy hotels with the bonus. Marriott properties include Residence Inn, TownPlace Suites, Courtyard by Marriott and SpringHill Suites.
Bonus Eligibility
One thing to keep in mind is that you cannot earn the bonus points on this card if you currently have the Marriott Bonvoy Boundless® credit card or a Marriott Bonvoy Bold credit card.
The same goes if you've had one of those cards in the past and you received the new cardmember bonus on one of them within the last 24 months.
To make sure that you earn the bonus, calculate how much you need to spend in the three months from account opening to meet the $2,000 requirement — that's roughly $667 per month — without overspending.
Reward Rates
As with other hotel cards, this one offers outsized rewards on purchases made with the hotel brand. You'll earn up to 14x points per dollar at participating Marriott Bonvoy hotels — that includes 3x points per dollar from the card, 10x points per dollar as a Marriott Bonvoy member and 1x point per dollar as a Marriott Bonvoy Silver member, which you get automatically as a cardholder.
This Marriott credit card also offers 2x points per dollar on other travel purchases and 1x point per dollar on all other purchases you make with the card.
On the rewards front, the credit card doesn't offer a ton of value. Because the average value of Marriott Bonvoy points is under 1 cent, you're getting a subpar rewards rate on other purchases that don't fall under the card's bonus categories.
In contrast, many other Marriott cards, including those from Chase and American Express, offer 2x points per dollar as a base rewards rate.
Considering the card has no annual fee, though, the low rewards rates aren't necessarily out of line with expectations. Most of the purchases you make are eligible purchases for rewards.
That said, eligible purchases do not include balance transfers, advances, travelers checks, foreign currency, money orders, wire transfers or similar cash-like transactions, lottery tickets, casino gaming chips, race track wagers or similar betting transactions, any checks that access your account, interest, unauthorized or fraudulent charges and fees of any kind, including the annual fee and foreign transaction fees.
Annual Fee and APR
The Marriott Bonvoy Bold card has no annual fee, which can be a good thing for infrequent travelers who don't want to go all-in on a hotel credit card.
The regular APR on the card is a 20.74% - 27.74% (Variable) APR based on your creditworthiness. Since there is no 0% introductory APR period on purchases or balance transfers, you should plan on paying down your balance in full every month to avoid high interest charges. Otherwise, you may end up paying more in interest than you'd get back in value from the card's rewards and other benefits.
Save More With A No Annual Fee Offer
Benefits
The Marriott Bonvoy Bold card isn't a heavy hitter when it comes to perks. But it does offer some benefits despite not charging an annual fee. Here's what you can expect to get:
Silver Elite Status
Every cardmember year, you'll receive 15 elite night credits, which is enough to qualify you for Silver elite status with Marriott. This status level comes with 10% bonus points when you book Marriott stays with cash, late checkout when available and ultimate reservation guarantee.
With the latter option, if Marriott isn't able to honor your reservation, the hotel will pay for your accommodations at a nearby hotel and compensate you for the inconvenience.
Travel Perks
For starters, the card doesn't charge foreign transaction fees, which can add up to 1% to 3% of each international purchase you make with many other cards. The card also offers a handful of trip protections, including:
Baggage delay insurance: If your baggage is delayed by six hours or more by the common carrier — usually an airline — you can get reimbursed up to $100 per day for five days for clothing, toiletry and other essential purchases.
Lost luggage reimbursement: If your luggage is lost or damaged by a common carrier, or it happens to an immediate family member who's traveling with you, you can get up to $3,000 per passenger in reimbursements to replace your belongings.
Trip delay reimbursement: If a common carrier delays your trip by more than 12 hours or requires an overnight stay, you can get up to $500 for unreimbursed expenses, such as meals and lodging.
The card provides purchase protection, which covers an item you've purchased with the card against damage or theft for 120 days after you made the purchase. You can get up to $500 in value per claim and up to $50,000 total over the life of your account.
Credit Score
The card requires that you have a good or excellent credit score to get approved. While each bank has its own criteria for determining what constitutes good or excellent credit, FICO considers a credit score of 670 or higher to be good.
You can find out what your FICO score is by registering for a free account with Experian or Discover Credit Scorecard. If your score isn't quite where it needs to be, or you're just barely over the line, consider taking steps to improve your credit before you submit an application for the card.
Another thing to keep in mind with the card issuer Chase is its 5/24 rule. This unofficial rule states that if you've opened five or more credit card accounts in the last 24 months, you'll typically get denied for a new card from the card issuer.
Redeeming Marriott Bonvoy Points
If you're considering this or other Marriott cards, here's what you need to know about the Marriott Bonvoy rewards program.
How Can I Use Marriott Points?
When you're booking award stays, you can use only points or you can mix points and cash to get the stay you want. You can even pool your points with other Marriott members, so you can maximize your redemptions with your loved ones.
While other redemption options generally give you less value, there are plenty of other ways you can use your points, including:
Book flights and car rentals
Buy experiences
Get travel packages
Buy gift cards
Donate or gift your points
When Do My Points Expire?
If you don't have any activity on your account for 24 consecutive months, you'll forfeit your points. The good news is that using the card generates rewards points, so it's enough to keep your account active. Once points have expired, you can't reinstate them, even for a fee.
Can You Transfer Marriott Points?
Marriott does allow members to transfer their points to more than 30 different airlines. In other words, you can convert your points to airline miles at a ratio of 3:1 with most airlines. The only exception is Air New Zealand Airpoints, which you can transfer at a ratio of 200:1.
Example airline partners include Aeromexico ClubPremier, United MileagePlus, Hawaiian Airlines HawaiianMiles, Korean Air SKYPASS, Delta SkyMiles and more.
Can I Transfer Points to Other Hotel Brands?
Unfortunately, no. Marriott doesn't offer flexible travel rewards like Chase Ultimate Rewards points. This means you can't transfer your Bonvoy points to IHG Rewards Club, World of Hyatt or any other hotel loyalty programs.
If you want the flexibility to redeem your rewards with several different hotel brands, consider a card with flexible points like the Chase Sapphire Preferred®, which is from the same card issuer as the Bonvoy Bold credit card.
Is the Marriott Bonvoy Bold Credit Card Right for You?
The Marriott Bonvoy Bold credit card can be a decent option if you're new to travel rewards and you aren't quite sure about paying an annual fee.
Ongoing Value
Getting a new credit card for the bonus points is tempting, but it's crucial that you consider the long-term value you can get with a card before you apply. With the Marriott Bonvoy Bold credit card, the fact that it has no foreign transaction fees also makes it a good credit card to take with you abroad.
The automatic elite night credits mean you don't have to do anything to earn Silver Elite Status, and as long as you can meet the minimum spending requirement within three months from account opening, you'll get the welcome bonus.
The card is solid for purchases with Marriott hotels, but it falls short on other purchases, where you'll earn just 2x points per dollar on other travel purchases — not terrible but not great — and just 1x point per dollar on all other purchases.
Consider Other Cards
Despite the fact that most hotel credit cards charge annual fees, most offer more than enough value to make it worth it, even if you only travel once a month.
For example, most Marriott cards with both Chase and American Express offer a free night every year when you renew your account as a cardmember. The same goes for most other top hotel cards.
You may also want to consider a card with more flexible redemption options. With the Chase Sapphire Preferred, for instance, you can transfer your points to Marriott, IHG, Hyatt or a number of airlines, giving you more versatility. The card also offers a huge welcome bonus that's almost certain to attract your attention.
Chase Sapphire Preferred®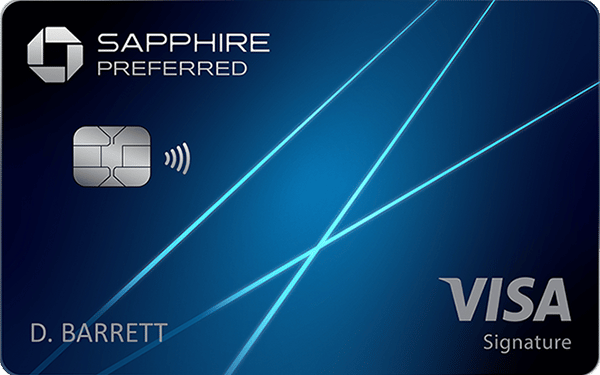 Apply Now
Secure application on issuer's website
Our Rating 5/5 How our ratings work Read the review
APR21.24% - 28.24% (Variable)
Annual Fee$95
60,000 60,000Chase Ultimate Rewards Points

Earn 60,000 bonus points after you spend $4,000 on purchases in the first 3 months from account opening. Dollar Equivalent: $1,320 (60,000 Chase Ultimate Rewards Points * .022 base)
The Chase Sapphire Preferred Card is one of the gold standards for earning travel rewards. It has a generous sign-up bonus and you can earn points on travel and dining expenses. The card does have an annual fee, but you can continue earning points through bonus categories and an anniversary points boost.
Bottom Line
The Marriott Bonvoy Bold credit card offers a solid welcome bonus for a card with no annual fee. But if you want a hotel credit card that will give you more ongoing value, especially if you're loyal to Marriott Bonvoy hotels, there are better options out there.
Take your time to consider other Marriott credit cards, both with Chase and American Express, to find the best fit for you.
Also, take a look at other hotel credit cards, as well as general travel credit cards, to find the right fit for you.
In addition to considering the sign-up bonus, look at the ongoing value you can get from each credit card you review. Finally, make sure the card you choose gives you the flexibility you want. While a hotel card can be great for elite status, you're extremely limited in how you can use your points.
As you consider each card's features and your needs, you'll be in a good position to choose the right credit card for you.
Similar Credit Cards
Marriott Bonvoy Brilliant® American Express® Card