Most products on this page are from partners who may compensate us. This may influence which products we write about and where and how they appear on the page. However, opinions expressed here are the author's alone, not those of any bank, credit card issuer, airline or hotel chain. This page may include information about American Express products currently unavailable on Slickdeals. American Express is not a partner of Slickdeals.
High inflation has had a painful impact on the household budgets of many American families since 2021. Month after month, consumers in the United States have paid higher prices for a variety of goods and services—and the holiday season has proved to be no exception to the rule.
On a positive note, inflation figures appear to be cooling. The newest Consumer Price Index (CPI) report shows that overall prices rose 7.1% between November 2021 and November 2022. And while these figures are still high—especially compared to the Federal Reserve's 2% target inflation rate—the latest CPI report is the second in a row to show signs that rising prices might be slowing.
Despite signs that Americans may be seeing some relief where inflation is concerned, the fact remains that holiday shoppers are paying more this year than they have in the past. Not only is the cost of essential goods higher—like groceries, utilities and gas—consumers are paying more for holiday gifts, dining and many other purchases.
Holiday Inflation Report — Which Products Cost More in 2022? 
On December 13, 2022, the Bureau of Labor Statistics released the Consumer Price Index report for November 2022. The report measured the change in prices on a variety of consumer goods and services between November 2021 and November 2022.
Over the past year, the prices of the items indexed in the CPI increased by 7.1%—a figure that was less than the 7.3% increase that economists predicted. But of course, holiday shoppers paid more for certain items than others this year. Here's how much more celebrating the holidays cost Americans in 2022.
Apparel
Clothing is a category that tends to see a surge in sales during each holiday season. (Just think of all the holiday sweaters, dresses, suits or sweatshirts you've received or given over the years.) So it should come as no surprise that in 2021 apparel and accessories were the top-performing holiday sales category according to eMarketer and Insider Intelligence.
If you purchased clothing for your loved ones this holiday season, there's a good chance those products cost you more than they would have last year. The November 2022 CPI report found that the overall cost of apparel was up 3.6% compared with November 2021. Yet depending on the types of items you purchased, you might have been exposed to higher or lower prices.
November 2021-November 2022, Unadjusted Price Percent Change
Men's Apparel: +2.3%
Boy's Apparel: -1.7%
Women's Apparel: +5.7%
Girl's Apparel: 5.2%
Cosmetics
Year after year cosmetics remains a popular category among holiday shoppers. From makeup and beauty sets to perfume and bath products, U.S. retailers sell billions of dollars worth of cosmetics each year—with a sizable percentage of those sales occurring during the holiday season.
Yet this year, consumers are paying more for their cosmetic purchases than they have in the past. According to the most recent CPI report, the cost of cosmetics is 5.4% higher than it was in November 2021.
Gift Wrap
Gift wrap, along with stationery supplies, is another type of product that consumers buy in higher quantities during the holidays. In 2021, the average American spent around $64.36 on stationery and gift-wrapping products for the year. However, those spending figures might increase in 2022 since the latest CPI report shows that the cost of these items is 14.3% higher than it was last November.
Flights
It's no secret that the holidays represent one of the busiest times of the year to travel. On top of the stress of navigating busy airports and long security lines, holiday travelers can also expect to pay a lot more for airfare than they paid last year. The cost of airline fares is 36% higher than it was in November 2021.
If you're fortunate enough to have points or miles banked, you might be able to redeem your credit card travel rewards for free travel. And if you haven't learned how travel credit cards work, it's never too late to look into this smart strategy that has the potential to save you money in the future. 
Travel Card Bonuses To Consider
Chase Sapphire Preferred®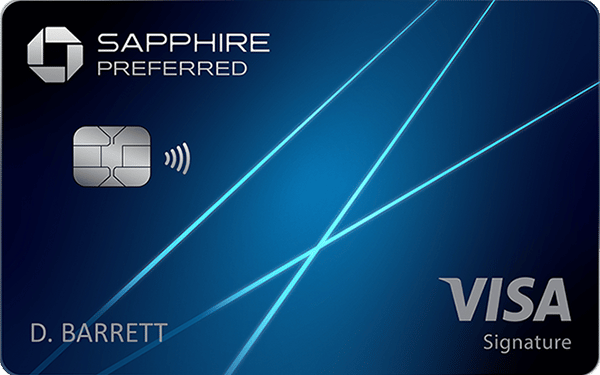 Apply Now
Secure application on issuer's website
Our Rating 5/5 How our ratings work Read the review
APR21.49% - 28.49% (Variable)
Annual Fee$95
60,000 60,000Chase Ultimate Rewards Points

Earn 60,000 bonus points after you spend $4,000 on purchases in the first 3 months from account opening. Dollar Equivalent: $1,380 (60,000 Chase Ultimate Rewards Points * 0.023 base)
The Chase Sapphire Preferred Card is one of the gold standards for earning travel rewards. It has a generous sign-up bonus and you can earn points on travel and dining expenses. The card does have an annual fee, but you can continue earning points through bonus categories and an anniversary points boost.
Overview
The Chase Sapphire Preferred is pretty flexible as it lets you transfer rewards points into miles or points several airlines and hotel programs. You can take advantage of strong transfer partners such as United, Southwest, Singapore Airlines, Virgin Atlantic and Hyatt. Similarly, you can book any reservation you want through the Chase Ultimate Rewards travel portal. Although the card might not be ideal for the most frequent travelers, it has a built-in upgrade path, so when it's time to level up your travel rewards game, you won't have to start from scratch.
Pros
Points are easily transferable to airlines and hotel partners
Accelerated earnings on dining, travel & household purchases
Excellent travel and purchase protections
No foreign transaction fees
Cons
Not ideal for the highest spenders
$95 annual fee
United℠ Explorer Card
Apply Now
Secure application on issuer's website
Our Rating 4.5/5 How our ratings work Read the review
APR21.74% - 28.74% (Variable)
Annual Fee$95
60,000 60,000United MileagePlus Miles

Earn 60,000 bonus miles after you spend $3,000 on purchases in the first 3 months your account is open. Dollar Equivalent: $840 (60,000 United MileagePlus Miles * 0.014 base)
United's mid-tier card offers some nice perks you don't always get with comparable cards, like two lounge passes annually, along with a free year before the annual fee kicks in. If you're an occasional flyer not ready to commit to a bigger annual fee, this card is a good middle ground.
Overview
The card's benefits really help it stand out from the crowd. Here's what you'll get: One free checked bag for each flight, priority boarding, 25% back on inflight purchases, two United Club airport lounge passes every year and Global Entry or TSA PreCheck application fee credit every four years. The card also offers trip protections, including primary rental car insurance, trip cancellation and interruption insurance, baggage delay insurance, lost luggage reimbursement and trip delay reimbursement. The card's annual fee is $0 for the first year, then $95 after that, which will give you some time to confirm that it's a good fit before the fee hits.
Pros
Free first checked bag on United flights
Up to $100 back for your Global Entry, TSA PreCheck or NEXUS application fee, every four years
Two annual United Club passes
Annual fee is waived the first year (then $95)
Cons
Not the best card for those that fly United more than a few times per year
$95 annual fee after the first year
Alcoholic Beverages
Whether you're buying a bottle of champagne for your New Year's Eve celebration or bottles of wine to give as presents, alcohol sales commonly increase throughout the holiday season. According to some reports, Americans drink twice as much during the holidays as they do during the rest of the year.
If you decide to buy alcohol this year, you'll most likely pay more for your purchases. The latest CPI report shows a 5.5% overall jump in the cost of alcoholic beverages, though some types of drinks may cost more than others.
November 2021-November 2022, Unadjusted Price Percent Change
Alcoholic Beverages at Home: +4.5%
Beer at Home: +7.7%
Wine at Home: +3.0%
Distilled Spirits at Home: +1.7%
Alcoholic Beverages Away from Home: +7.1%
Beer Away from Home: +6.6%
Wine Away from Home: +7.9%
Distilled Spirits Away from Home: 7.0%
Postage and Delivery
With so many extra parties and events to attend, the holidays can sometimes feel overwhelming. So, it's no wonder that 80% of consumers planned to shop online for at least some of their holiday purchases this year according to an NPD survey. Yet the convenience of shopping from home can come at a cost.
The latest CPI report reveals that the cost of both postage and deliveries are up. Compared with November 2021 prices, consumers can expect to pay more for both of these important service categories.
Postage: +3.2%
Delivery Services: +13.8%
What's Next?
Overspending during the holidays is not unusual. A TD Bank survey reveals that the majority of consumers (69%) admit to spending more than they planned during previous years. Add in the fact that prices are higher this year across the board than they have been in the past and it's easy to see that many consumers may struggle with the fallout of holiday overspending when the new year arrives.
If you are trying to figure out how to manage the extra debt you took on during the holiday season, you're not alone. But you should aim to pay down that new debt—especially credit card debt—as quickly as possible so that it doesn't lead to potential problems in the future.
One possible solution to consider is using a balance transfer credit card or debt consolidation loan to try to pay off your debt faster. When you manage a balance transfer or debt consolidation responsibly, you can use this strategy to potentially reduce your debt and save money on interest at the same time.
Pay No Interest for a Limited Time