Few destinations offer the number of entertainment options available in Las Vegas. Whether you're visiting for the casinos and nightlife, catching a world-class show or enjoying one of the city's other attractions, Vegas offers something for almost everyone.
A stay in Las Vegas hotels, though, could cost more than you expected, thanks to costly resort fees that many hotels and casinos charge on top of a room's base price. Resorts typically charge daily fees for access to a bevy of hotel amenities, including in-room Wi-Fi, free parking, concierge, etc. The good news is that there are ways to avoid these additional charges with some planning.
This guide walks through how to save on resort fees in Vegas and ways you can gain access to free rooms and other amenities during your next stay.
Las Vegas Resort Fees and How To Spot Them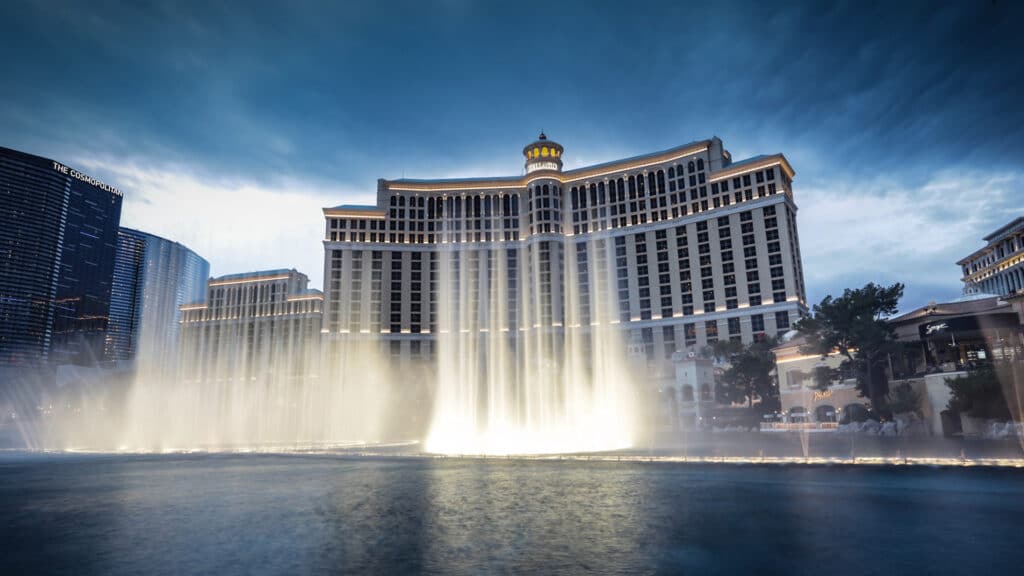 Las Vegas is known among travelers for its hefty resort fees. Resorts in Las Vegas offer some of the most exceptional amenities around and paying fees gets you access to these extra perks. Each resort varies in its offerings, but common amenities may include in-suite high speed internet access, concierge services, fitness center access, spa services and more. Guests staying at Las Vegas Strip hotels will pay around $40 per night in fees on average.
Where to find the resort fee: While resorts aren't shy when charging fees, they aren't always forthcoming with disclosing them. Finding a resort's fee isn't always an easy task. Since fees aren't a great selling point, you typically won't find that information on a resort website's homepage. The best way to find resort fees is by looking online in the hotel's FAQs section or seeing the fine print during the booking process.
Related: What Are the Best Hotel Rewards Loyalty Programs?
Many of the resorts listed above share fee info once you've entered your arrival and departure dates, number of guests and selected your desired room. A few resorts even wait until even further into booking a room to disclose this information.
If you can't find the resort fees: You may need to contact the resort directly if you can't locate fee information online. Note that in addition to paying taxes on your room, the resort also charges tax on any resort fees.
How To Avoid Paying for Resort Fees in Las Vegas
Many of the top Las Vegas resorts charge extra for staying with them, but that doesn't mean there aren't ways to avoid paying these fees. Below are four ways you can avoid resort fees in Las Vegas.
1. Find a Hotel That Doesn't Charge Resort Fees
While many larger resorts and casinos charge fees, you can still find several that don't. The easiest way to avoid fees is to stay somewhere that doesn't charge them in the first place.

Many top hotels do not charge a fee (at least 40 in the Las Vegas area) including these top hotels to give you an idea of your options:
Unfortunately, most of the resorts that don't charge fees are either just Off-Strip or located further away from most of the Vegas action. Most of the iconic and popular Las Vegas resorts and casinos on the Strip will charge resort fees.
2. Book Your Room Using Points
Another way to skip paying fees is to book your stay using points. Some resort chains, like Hilton and Hyatt, will waive resort fees for individuals who book reward stays at Las Vegas properties.
Related: How to Get Free Hotel Stays and Room Upgrades With Credit Card Points
This is a great way to save some money on hotel accommodations, but just be sure to always check before you book an award stay. Plus, with the right credit card, you could have access to other valuable resort benefits like room upgrades, free WiFi, complimentary breakfast, lounge access and more.
Check out cards with the best hotel rewards programs the next time you book a hotel stay.
3. Use Your Elite Status
Elite status within select hotel loyalty rewards programs can also net you waived resort fees. Caesars is one of the biggest names in Las Vegas and the resort brand's rewards program offers tons of perks, especially for those who reach its highest tiers.
For example, Caesars Diamond or Seven Stars status comes with access to a host of perks, including waived resort fees. Earning these higher status tiers, though, might require spending large amounts of money on gaming and other activities at Caesar properties. A simpler way to gain access is to reach Platinum or Diamond status with the Wyndham Rewards program, which partners with Caesars Rewards to offer status matching.
4. Ask the Hotel To Waive the Fee
If all else fails, try asking the front desk staff or manager to waive the fee during check out. The worst that can happen is they say no. You may need a good reason not to pay the fee, but with the right approach, you might be able to charm your way into the resort's good graces. Just know that if your resort fee is waived, you may not have access to certain amenities such as in-room internet access, fitness center access, or other amenities provided by paying the resort fee.
One downside to this approach is that you won't know if the resort will waive the fee until the end of your stay. If they refuse, you could be left holding a much larger bill than you planned. If you choose to go this route, hope for the best, but be ready to pay the fees if they decline your request.
How To Get Free Rooms and Food When Visiting Vegas
Vegas resorts and casinos have a reputation for offering free gifts and perks to loyal customers called comps (short for complimentary). Comps could be as simple as free drinks, meals or show tickets. In some cases, though, resorts could offer something more valuable, like free rooms or room upgrades to casino guests. Here's how you can score free perks during your time in Vegas.
The primary way to earn comps at resorts is to spend money. Casinos pay attention to much you bet, how long you're playing, the types of games you play and whether you're winning or losing. To help them track this, sign up for a players club card at your resort. Then, insert your card when playing slot machines or hand it to the dealer when playing table games.
As you bet and spend money, you could be offered comps. If not, you can request comps from the pit boss or hosts. Like asking for waived fees, the worst they can say is no.
Can You Refuse To Pay Resort Fees in Vegas?
In the end, you could refuse to pay resort fees, but you shouldn't consider going this route unless you received unfair treatment. If this happened to you, you can consider filing a dispute with your credit card company if you have a legitimate reason for not paying resort fees. You'll need to provide documentation in most cases if you want your card issuer to side with you.
A better option might be to seek assistance from the resort staff. State your case with the hotel manager, voicing your displeasure. You can still get your fees waived or receive other compensation for your troubles in many cases.
More About Hotel Perks and Upgrades:
---
Great Deals and Bonuses to Check Out on Slickdeals Money:
---