Managing your money isn't always easy, especially when you're first starting out. The world of personal finance is complex and confusing, but it's also extremely important and not something to ignore. At a time when roughly 58% of American's have less than $1000 in savings, it's crucial that young millennials have the tools they need to learn the personal finance basics.
Luckily, there are tons of personal finance apps on the market that have been designed with beginners in mind. These apps can help you with everything from budgeting to investments, and their straightforward interfaces aim to make the world of personal finance a little less intimidating. We're showcasing the best personal finance apps for people under 35, and hopefully they can help ease some of your financial stresses.
Keep reading for a list of the best personal finance apps for people under 35.
Clarity Money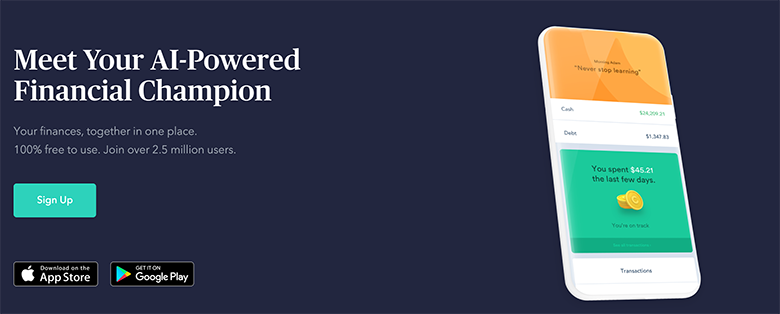 Best for: Savings and Money Management
If you're looking for a free personal finance app that does a little bit of everything, Clarity Money might be right for you. This app allows you to create a budget, track expenses, and even start a savings account using Marcus by Goldman Sachs. Their high-yield savings accounts come with a 2.5% annual percentage yield (or APY), which means your savings will increase by 2.15% every year. (Please note that Goldman Sachs is the majority owner of Slickdeals.)
This app also addresses one of the biggest financial pitfalls that millennials fall into: subscription services. Clarity Money helps you track how many services you're subscribed to and breaks down the monthly cost so you can more efficiently track how much money you're spending per month. This is great for anyone who may have gotten overzealous with their subscriptions and needs to cut back.
---
You Need A Budget

Best for: Budgeting
Budgeting is extremely important when you're first starting out, hence the name of this helpful app. You Need A Budget is a budgeting app that can get you on the path to becoming debt-free. By breaking down where your money goes, you can learn how to allocate your funds better to both pay off your past debts and start saving for the future.
You Need A Budget not only provides a robust bundle of budgeting tools, but it also educates users on how to best use them to maximize savings. In fact, the company behind the app claims new customers average $6,000 of savings in their first year. So this is definitely a worthwhile app for people struggling with reckless spending. You can try the app free for 34 days, after which the service costs $7 a month. That's $84 a year, which is a small price to pay for big savings.
---
Prism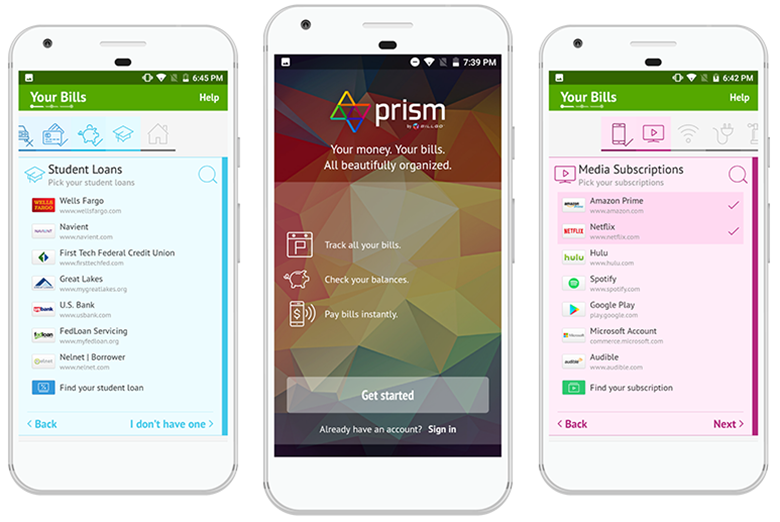 Best for: Paying Bills
Missing a bill payment can come with some serious financial consequences, which can get really scary when the late fees start to pile up. That's where Prism comes in. It's a free-to-use app designed to help you better track billing, so you don't get surprised when they eventually land in your mailbox. You can even pay your bills from the app.
Prism tracks all of your bills and sets up automatic reminders, making accidental late fees a thing of the past. The app also allows you to quickly check all of your account balances in one place, from your electric bill to your Netflix subscription.
---
Acorns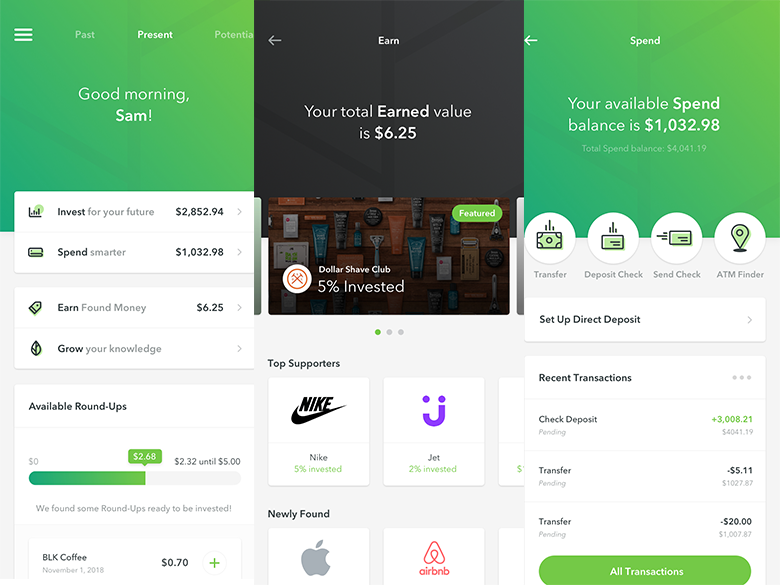 Best for: Investing
Getting into the world of investing is intimidating for many, but taking baby steps can help. Acorns is an easy investment app that helps you build a portfolio out of nothing but your spare change. Once you sign up with Acorns, they'll send you a debit card that automatically saves and invests every time you make a purchase. It does this by rounding up the price to the nearest dollar on all of your Acorn card purchases, and then investing that extra change.
This is great for people who have trouble saving, as it basically takes the decision out of your hands. The Acorns debit card can save you money in other ways, too. There are no ATM or overdraft fees, and the card does not have a minimum balance requirement.
Acorns costs $1, $2, or $3 a month depending on which tier you select. Acorns Core is the cheapest option and grants you access to all the basic features. The $2 tier is the Core package which includes extra tools to help you save for retirement. The final tier includes both of the cheaper packages, as well as access to additional exclusive features.
---
Twine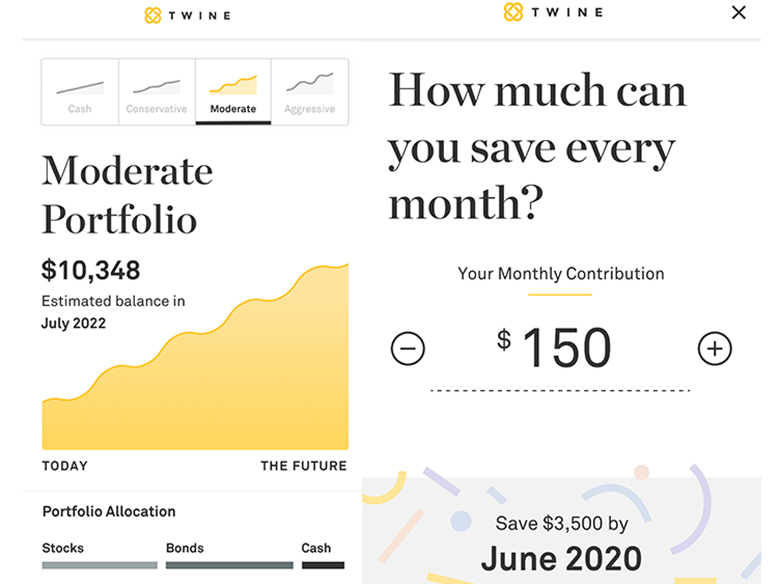 Best for: Couples
The longer you're in a relationship, the more intertwined both of your personal finances become. Merging accounts can be intimidating for young couples, but Twine is a money managing app designed to ease the financial stress in your relationship. The app is specifically designed for couples to start combining their finances in a healthy and sustainable way. Set joint financial goals with your partner, like saving up for a vacation, and you can both start contributing cash and tracking your progress.
Twine also has tools that allow you to jointly invest in a portfolio or start saving cash, which will earn you interest as well. While the app is largely free, if you want to invest, it costs $0.25 a month per $500 invested.
---
Spendee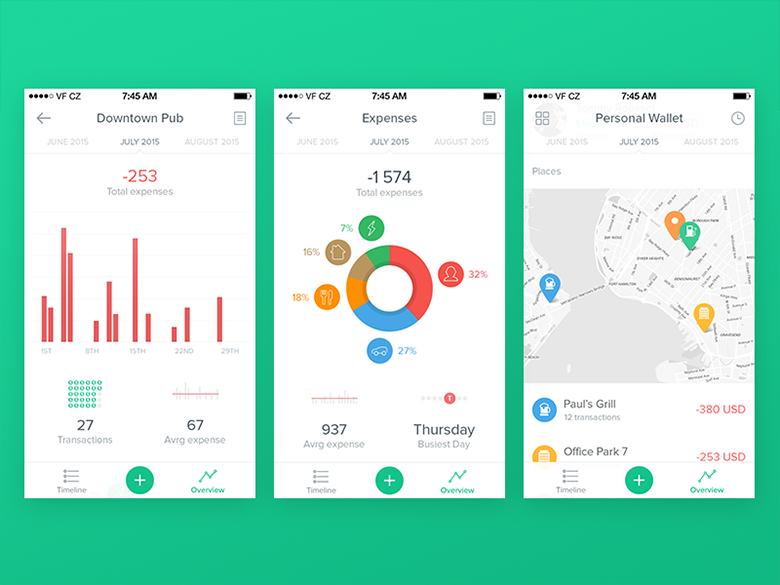 Best for: Tracking Expenses
Spendee is an app for compulsive spenders that helps break down monthly expenses. It's part budgeting app and part accountability workshop. Use it to track your income and expenses, create budgets, and better understand where all of your money is going.
This free app also has a bunch of other useful features as well, including shared wallets for couples and people living with roommates. Spendee is also great for wandering souls who spend a lot of time traveling, as it can easily convert your finances into different international currencies.
Spendee Basic is free with a variety of paid plans beginning at $14.99 per month.
---
Personal Capital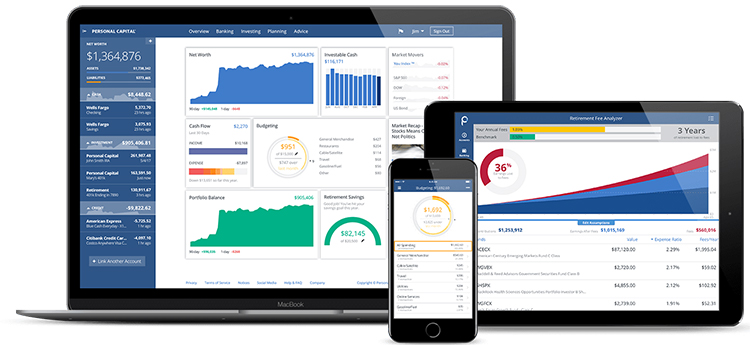 Best for: Long-Term Money Management
Personal Capital is a free money managing app that allows you set financial goals, analyze any investments you may have, and keep track of all of your finances and bills. This app is particularly useful for making projections about future financial decisions.
The software can also help you plan for retirement, calculate the long-term costs of big purchases, and provide answers for possible "what if" scenarios that could affect your financial stability. It's a great choice for young people who want to get a sense of what their finances could look like over long periods of time.
---
Mint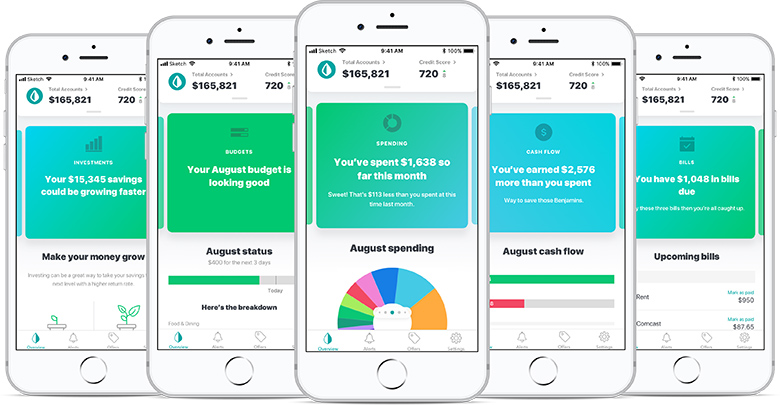 Best for: Budgeting and Money Management
Mint is a free all-in-one financial services app from Intuit with a focus on budgeting and money management. It allows you to keep all your bank accounts, credit cards and billing information in one place. It also offers tips on ways to better manage your money. Mint really is a jack-of-all-trades app, allowing you to create budgets, access free credit scores, and set up bill reminders. It will even warn you if your funds start getting a little too low.