Since I first started earning travel rewards in 2013, I've been approved for more than 70 credit cards. At present, 20 of those cards are still open.
At the beginning of the coronavirus pandemic, credit card spending dropped significantly. At the end of March, the seven-day spending average on Chase consumer credit cards was down 40%. While it has rebounded somewhat, it's still natural for folks on a tight budget to wonder if it's still worth holding onto their annual-fee credit cards.
But having multiple credit cards can help you take advantage of the different rewards programs and perks that each card offers, even during a pandemic — many card issuers have stepped up to adjust rewards rates and benefit terms to make it easier to use their rewards.
That said, the more cards you have, the harder it can be to keep track of them. Here are some tools I use to stay on top of my accounts and avoid interest charges.
Budgeting Software for Credit Card Tracking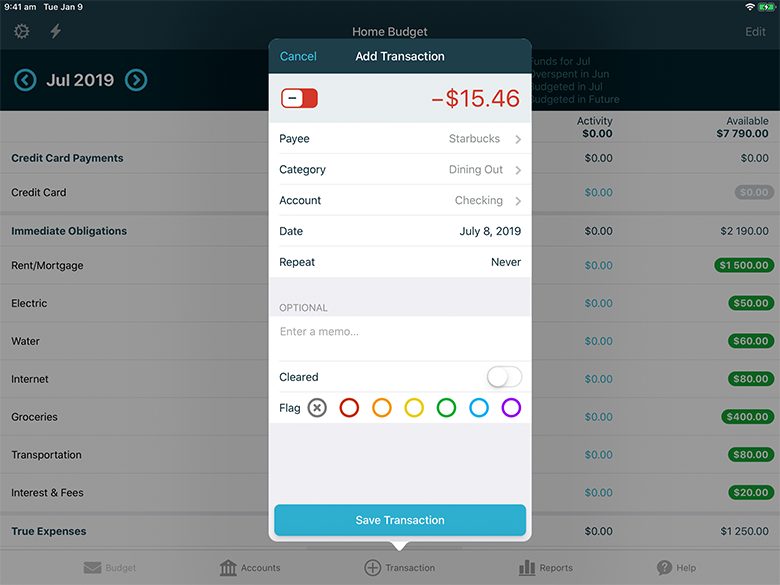 If you have multiple credit cards, using budgeting software with a direct import feature is a must.
I use You Need a Budget, called YNAB for short, because it imports my latest transactions and allows me to view them and my current balances all in one place. It also gives me a bird's-eye view of how much I'm spending overall, and whether I have the money available to pay off what I owe at any given time.
With this setup, I don't need to worry about logging in to my online credit card accounts unless I want to redeem rewards or make a payment. That's right, I pay my credit card bills manually instead of setting up automatic payments. While automation is a good thing, I prefer to make payments on my own volition rather than having multiple withdrawals from my checking account at random times throughout the month.
YNAB also allows me to keep track of how much I've spent on a specific card during the initial sign-up bonus period. If I need to spend $3,000 in three months, for instance, I can check the current balance and add up any payments I've made so far to see how much I still need to spend.
YNAB has also been a significant help during the pandemic for general budget reasons. As I've looked for ways to cut back on spending, I've been able to use the software to determine where I'm spending unnecessarily, so I can make some adjustments.
Google Spreadsheet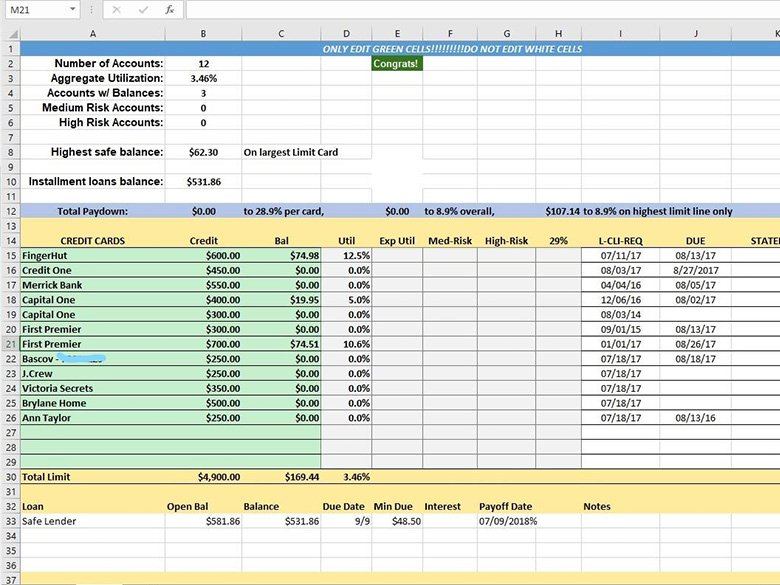 With so many credit cards, it can be easy to lose track of certain card features, including rewards rates and perks.
A Google spreadsheet allows me to keep track of each card's features in one place. So if I have a certain expense coming up or want to maximize travel perks on my next trip, I can take a look at my spreadsheet to determine which card is best for the occasion.
The spreadsheet also makes it easier to keep track of each card's annual fee and when I'll be charged. I have plenty of credit cards that I don't plan to get rid of either because there's no annual fee or the perks—such as free hotel nights—are worth enough to make up for the card's yearly cost.
In some cases, though, I may choose to close an account because it's no longer providing me with enough value to make up for its annual fee. With all of my cards' details listed in one place, I can avoid getting slapped with the fee before I call to cancel.
During the pandemic, many cards are offering higher rewards rates on certain expenses, such as online spending and groceries. Additionally, some card issuers are providing additional statement credit perks, adjusting travel credit benefits to be used for non-travel expenses and even making it possible to redeem rewards for groceries instead of travel.
With so many different offers out there, using a spreadsheet to keep track can make it easier for you to maximize what your card issuers are providing.
Credit Karma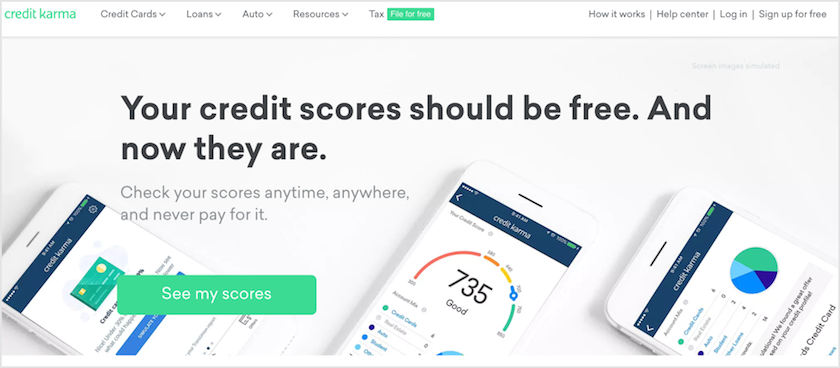 Credit card fraud is only one form of identity theft, but it can be devastating if you don't catch it early. It's easy to spot unauthorized transactions using my budgeting software, but I also want to make sure that someone isn't using my personal information to open new credit card accounts in my name.
Credit Karma allows me to view my current accounts with Equifax and TransUnion, as well as my credit inquiries. The monitoring service also alerts me when a new inquiry hits my report, so I can follow up if I don't recognize it.
Credit monitoring has also been more important than usual this year for many people. If you've struggled with keeping up with payments, you may have been able to qualify for forbearance from your lenders, and in some cases, lenders have been instructed not to report late payments to the credit bureaus. By checking your credit reports regularly, you'll be able to ensure that the reporting is accurate based on what's been promised to you.
Finally, some credit card issuers have certain rules that can keep you from getting approved for one of their credit cards. With Chase, for instance, you likely won't get approved for a card if you've opened five or more new accounts in the last two years. Credit Karma includes the date I opened each card, so I can see what my status is with the 5/24 rule.
AwardWallet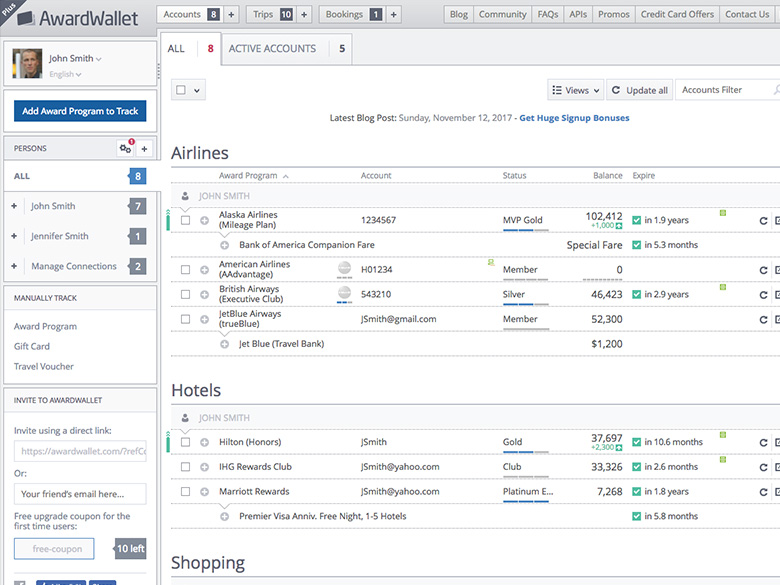 AwardWallet is an online service that allows you to keep track of all the rewards you've earned in one place. Simply connect your loyalty program accounts, and it'll keep you updated on balances, expiration dates and more. With points and miles spread across multiple programs, AwardWallet helps me make sure I don't forget and leave rewards balances to collect dust.
The good news is that many loyalty programs have extended expiration dates on their rewards, free night certificates and more. You can check AwardWallet to see all of those dates in one place.
The Bottom Line: Tracking and Maximizing Value of Multiple Credit Cards
The more credit cards you have, the more potential value you get through travel rewards and card benefits. But if you get too many credit cards without a strategy for how to organize them, several things could go wrong, including:
Missing a payment and getting slapped with interest and a late fee, or even having your credit damaged
Having someone use one of your credit cards fraudulently without you knowing it
Missing out on certain perks or bonus rewards because you're overwhelmed
You don't need to use the same tools I use to keep track of your credit cards, but have something that works for you and helps you use your rewards credit cards responsibly.
If you're nervous about credit cards with annual fees, remember that you don't have to start with one of the large-fee cards. Pick one with a low annual fee that earns better rewards in an area where you have higher spending levels (e.g. groceries, dining, gas stations, etc.). Then see how much value you get in exchange.
Regardless of which type of credit card you choose (annual fee or fee-free), be sure to pay off your full statement balance each month. This will both save you money and protect your credit scores from potential damage. After all, money saved and good credit are the best rewards of all.